Skoda Octavia Estate 2.0 TDI Elegance: long-term test review
Final report: Our man finds it hard to pick between the Skoda Octavia Estate and SEAT Leon ST
Mileage: 4,158 Real-world fuel economy: 37.4mpg
Regular readers will know I'm a big fan of the Octavia Estate – three five-star ratings in three previous reports amount to perfection in the Auto Express scoring system. And as we all know, you can't improve on perfection.
Except, in this instance, you can...because the Skoda was actually pipped to the title of Best Estate at our New Car Awards this year by a car that is very closely related to it, the SEAT Leon ST. After six hugely satisfying months with the Octavia, I was keen to see if I could still be convinced by the Leon's charms, so brought the pair together for a quick head-to-head before the Skoda left our fleet.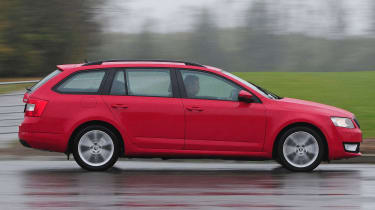 The cars are based on the same VW Group technology, but despite broadly comparable dimensions – the Octavia is 111mm longer and 26mm taller – styling- wise they go down different routes. To borrow an analogy used by SEAT boss Juergen Stackmann when talking about his firm's SUV plans, the Octavia is clearly the more restrained Prince William of this pair, while the more extrovert Leon, with its more aggressive front and flashes down the flanks, is Harry.
The feeling is mirrored on the road. Despite the Octavia having a driving mode selector, picking Sport just doesn't really alter its character significantly, in the same way as a baseball cap can't turn William into Jay Z. It's composed, but conservative. The Leon, meanwhile, is as up for it as Harry at a Vegas pool party. It handles sharply and generally gives the impression it wants to be driven more aggressively, even though the model we tried featured the same 148bhp 2.0-litre diesel as the Skoda.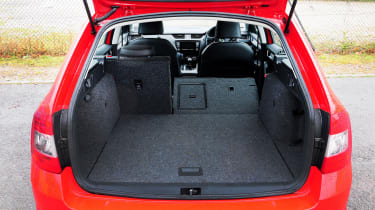 But these cars are, of course, estates, which means practicality needs to be taken into account, too. And while it would be churlish to complain about the Leon's perfectly respectable 1,470-litre boot capacity with the rear seats folded, it has to give best to the Skoda here with its huge 1,740-litre total.
Inside, there's little between the pair. Again the SEAT probably has more flair, although both share solid build and a simple, straightforward dash layout.
The verdict? Well, like Harry, the Leon would offer more fun on a day out, but as with William, the Octavia is probably the one you'd entrust with an important job. Either way, you can't go wrong with either one of these great estates.
Mystery of the 'buggy' sat-nav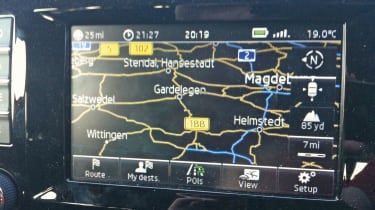 Arguably the only irritating element of life with the Skoda was the sat-nav's tendency to revert to German mapping.
I reported on this previously and – determined to get to the bottom of the mystery – I booked the car into dealer SG Smith in Croydon, Greater London.
But the dealer explained the software on our car was the most up-to-date available, and that no technical service bulletins had been issued about the problem, despite a host of complaints online.
Indeed, a number of readers e-mailed me direct to say they had also experienced it. The issue was best explained by one of them, Peter Brownless, who told me: "What sends it to Germany is if you happen to press on a traffic warning. When you return from the warning, it's always to Germany. Pressing the symbol that looks like an overhead view of the car restores normality."
I tried this a few times, and found Peter's theory to be correct more often than not. So if you're an Octavia owner, keep your finger on that 'overhead' symbol and you'll soon be back in Blighty...
Skoda Octavia Estate: report 3
Skoda Octavia Estate proved its practicality with a key role at an Indian wedding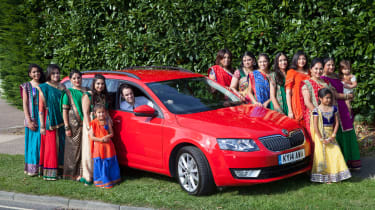 Mileage: 3,724 milesReal-world fuel economy: 40.1mpg
Big occasions need big cars – and events don't come much larger than a full-on Hindu wedding. So when the invitation came in for the nuptials of my wife's cousin Rahu, and his bride-to-be Swati, I knew there was only one car for the job: our Skoda Octavia Estate.
Over the four days of ceremonies, the Skoda excelled itself, ferrying people, clothes and all sorts of items from venue to venue, demonstrating its practicality at every turn.
Maximising the load capacity is made simple by folding the rear seats via handy levers sited in the boot. And installing and removing the child seats my two daughters require is much more straightforward than in some cars, thanks to plastic casings which make locating and using the Isofix points easy.
With 1,740 litres of space with the back seats down, there was never any danger our Skoda would be beaten for storage. And of course, on the days when all the seats were filled, there was still a healthy 610 litres of boot space to carry plenty of gear.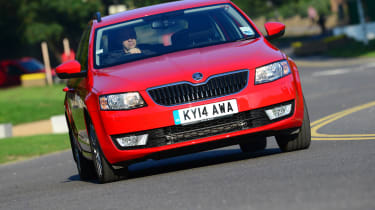 In short, our Skoda helped make what could have been a rather stressful few days very easy to negotiate. Of course, the Octavia's versatility and practicality are legendary – but it's been its ability on the road I've been keen to assess over the last few weeks.
Skoda UK product marketing manager Chris Horrell told me how he lobbied the Czech company's engineers for a driving mode selector in the Octavia after feedback in our Driver Power owner survey had shown the previous model scored less highly for driveability than in most other areas.
Proof your comments are taken seriously lies in the small button in front of the gearstick, which lets you choose between Normal, Eco and Sport modes, or tailor your individual preferences specifically. In reality, though, there's not a hugely discernible difference between them.
The most noticeable change is a weighting up of the steering in Sport, but you'd struggle to ever call the Octavia genuinely sporty – it's not unenjoyable to drive, but if agility and handling finesse are a priority in your estate, look elsewhere.
Its trump card on the road is its cruising ability, so in a bid to minimise fuel bills I tend to stay in Eco mode, although at 40.1mpg, fuel economy is still some way short of the claimed 67.3mpg. The 2.0-litre diesel engine is a decent performer, though, and ensures the Octavia never feels short of pace, even when fully loaded.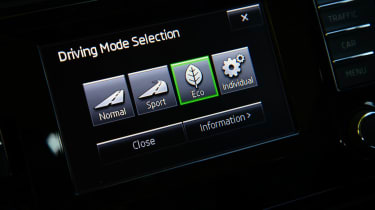 Niggles have been few and far between. The sat-nav has reverted to German mapping on a couple of occasions. And the dark trim inside does have a tendency to show up grubby marks rather easily, which is a problem with my two young children. But neither is a deal breaker.
As an all-round, hard-working family car, the Octavia Estate has few peers – and with the guest list at Rahu and Swati's wedding running to just under 500, I'd wager it managed to attract a few converts to the Skoda brand over the course of a busy weekend.
Skoda Octavia Estate: report 2
Splat! Our Skoda Octavia Estate is under attack from birds, but still a big hit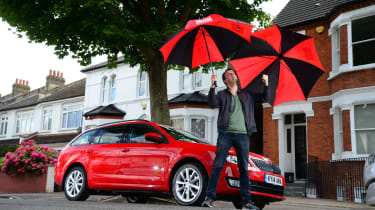 Mileage: 1,970 milesReal-world fuel economy: 36.4mpg
There's no doubt our Corrida Red Skoda Octavia stands out – but does it stand out too much? That's what I'm beginning to wonder, following a spate of attacks by the birds who hang out in the tree that overhangs my driveway.
A Halfords survey a couple of years ago suggested red cars received more bird droppings than any other car, and my – admittedly unscientific – evidence would suggest this is true.
Of all the cars I've run at Auto Express, I've never had one that has come under such relentless attack. Thankfully, the paintwork seems to be surviving the bombardment, with the help of Autoglym's clever Bird Dropping Wipes.
These handy packs of 10, which come in individual sachets and sell for under a fiver, are small enough to fit in the front door side pockets and do an excellent job of effectively cleaning up when my feathered friends have done their worst. Thankfully, when the Skoda has not been in the firing line, it's been revelling in its role as reliable, spacious and versatile transport for the Hope family.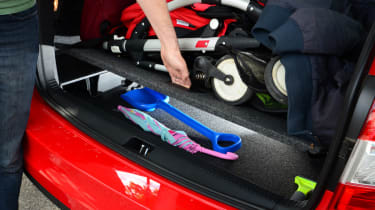 On the road it's proved an effortless cruiser each time I've ventured on to the motorway, with the 148bhp 2.0-litre diesel engine muscular enough to endow it with adequate performance, even when fully laden (which is most of the time).
In town it's slightly less convincing, with the firmish ride particularly noticeable over speed bumps, as is the engine's general dislike for low revs. Overall, though, it's a decent car to drive – estates aren't meant to deliver the last word in agility, but there's enough engagement here to provide some fun.
Of course, key to the Octavia's appeal is its spacious boot, and easily folding rear seats. These free up a huge 1,740-litre load capacity, which has come into its own ferrying furniture, a broken down shed and a library's worth of old books to the tip and local charity shop respectively.
Even better, the cabin is comfortable in Elegance trim – but not so lavish that you mind it getting a little grubby. The cynic in me thinks the VW Group has deliberately made this Octavia a little less posh in order to give it some distance from its Golf sister car. The last generation of Octavia certainly felt a bit closer to the VW in this respect.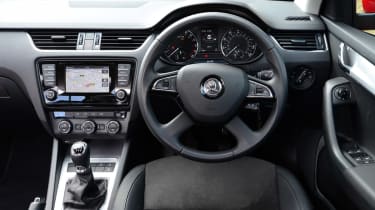 There's little you're left wanting for in terms of equipment, with DAB, easy streaming through Bluetooth and a CD player providing a wealth of music options. The last of these, in particular, is especially welcome – while some units are now eschewing this old-school tech, this busy dad simply doesn't have the time to create MP3s from my younger daughter's nursery rhyme CDs.
So having the ability to pop a disc into the player in the glovebox is a real bonus. One other thing I don't really have the time for is ploughing through the manual for the Amundsen sat-nav, but I've had to on a couple of occasions as it really isn't the most intuitive unit I've experienced – I find the 'Autozoom' feature especially annoying.
Also, having tried the higher-spec Columbus nav on the Octavia GreenLine we tested recently, I'd say it's worth upgrading to – even though it costs an additional £800 in Elegance trim. An eight-inch screen – as opposed to the sub-six incher in mine – plus 3D mapping make it much better to use.
It's a minor niggle, though, on a car that's been a welcome addition to the Hope household.
Skoda Octavia Estate: report 1
Award-winning estate is the latest car to join our fleet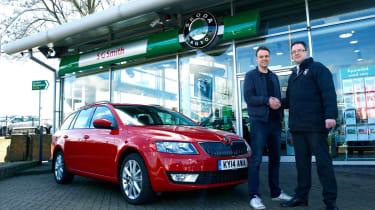 Mileage: 802 miles Real-world fuel economy: 36.3mpg
I've always been a fan of estates. Why struggle to cram all your gear into a saloon or a hatch when you could have all that lovely space at the back?
And if you're going to drive an estate, you might as well drive the best – so as you can imagine, I was delighted to be handed the keys to the sparkling Corrida Red Skoda Octavia 2.0 TDI Elegance that's just joined our fleet.
The Octavia, if you recall, was crowned Best Estate in our New Car Awards in 2013, and deservedly so. So it was with a genuine sense of anticipation that I went along to dealer SG Smith in Purley Way, Croydon, south London, to pick up the keys. The dealer is a great representation of the brand itself – not especially glamorous, but smart, efficient and welcoming. Little wonder Skoda's network finished eighth in our Driver Power satisfaction survey in 2013. And, as with the brand, the dealer is preparing for a makeover as it awaits a refit to tie in with the firm's new corporate identity.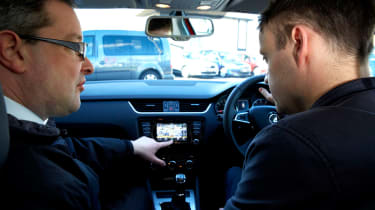 Sales executive Mark Vousden talked me round the car's key features, and was eager to highlight some of the standard kit on the plush Elegance trim. First up was the sat-nav, which, if truth be told, can seem a little confusing at first.
Mark made it sound simple, swapping through the menus and highlighting the numerous symbols on the touchscreen, but the nav isn't as intuitive as some systems. Nevertheless, it works well.
Bluetooth pairing was instant and easy, while I am particularly pleased to have DAB, too – reception so far has been absolutely flawless.
Other kit highlights are dual-zone climate control – essential for married couples who can't agree on in-car temperatures – and Driver Fatigue Control, a device that monitors your driving style and sounds an alert when it detects you're tired. The boot, of course, is the Skoda's trump card, and at 610 litres it's easily big enough to carry all my two daughters' gear. It's easy to expand that to 1,740 litres, too, with two levers at the back which quickly fold the rear seats.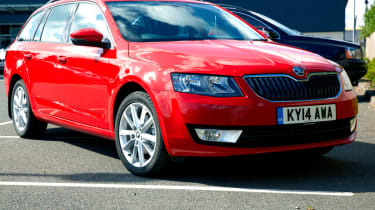 Our 148bhp 2.0-litre TDI model gives decent pace, but of more interest to many, especially company car drivers, will be the 67.3mpg economy and 110g/km CO2 emissions figure. I'm keen to see if I can get anywhere near 60mpg, given how much time I spend on city roads.
Only 802 miles in it's very early to give a verdict on ability, but the Skoda handles competently, if not thrillingly, and rides firmly, yet not excessively so. We'll be keen to see how it fares when the engine loosens up and we hit the motorway – but so far it all looks very promising.
Insurance quote (below) provided by AA (0800 107 0680) for a 42-year-old living in Banbury, Oxon, with three points.