Faster, greener MINI specs revealed
Full details on new MINI engine range, including new auto that uses GPS to select gear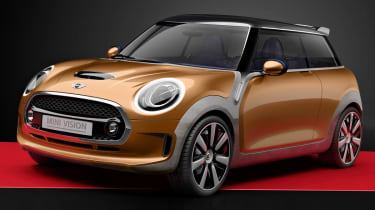 Full tech specifications on the third-generation MINI have been revealed - including every detail of the new three and four-cylinder engine families.
We already know how the new MINI will look, ahead of its debut at next month's LA Motor Show, thanks to the Vision concept MINI revealed in July and the spy pictures we published earlier.
However, now we have the full tech specification on the third-generation hatchback. These include two 1.5-litre three-cylinder turbos – a 134bhp petrol with 220Nm of torque for the Cooper, and a 114bhp diesel with 270Nm for the Cooper D. A new petrol 2.0-litre with 189bhp and 280Nm will power the Cooper S, and be tuned to 220bhp for John Cooper Works models.
All cars should be significantly faster than their predecessors, while MINI is promising big gains in efficiency through the extensive use of lightweight high-strength steels throughout.
Two transmissions will be offered. A new six-speed manual gets the same rev-matching shift technology as the next BMW M3 and M4 for perfect downshifts. Meanwhile, the automatic option uses the same GPS-guided gear selection system as the Rolls-Royce Wraith – which prepares the transmission based on the type of corner or slope you're approaching.
To boost ride comfort and everyday usability, adaptive dampers will be offered for the first time. Two settings – Sport and Comfort, accessed at the flick of a switch – will offer a sharper drive or a more relaxed ride.
The multi-link rear suspension is retained, but has been heavily redesigned to ensure more rear space and a bigger boot. The load area will also be easier to access.
A wider front and rear track plus stiffer suspension arms should also guarantee sporty handling, while the electric power-steering will have variable resistance for the first time to make the car easier to drive at low speeds and when parking. New Active Rotational Damping has been introduced to minimise torque steer, too – this should come in handy for the most powerful JCWs.
Finally, the new MINI will get clever passive safety technology, with a much stronger passenger cell, larger crumple zones front and rear plus a new bonnet that senses a collision and pops up to absorb more of the impact.
Official performance and economy stats have yet to be revealed – but with the launch just under two months away, we'll have further details soon.