2016 Mitsubishi Outlander: pics, specs and PHEV mpg details
Mitsubishi's facelifted Outlander PHEV SUV set to get 8% efficiency boost when it goes on sale in October 2015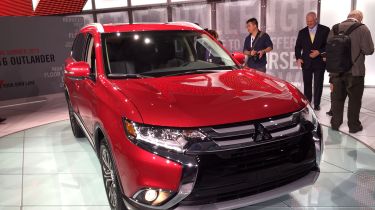 The first powertrain details of the new Mitsubishi Outlander PHEV diesel hybrid have been revealed. Although the specs are Japanese-only and therefore not applicable for European markets, the claimed 8 per cent improvement in overall efficiency gives an idea of the kind of improvement we can expect.
Mitsubishi states that a reduction in engine friction and software optimisation have improved both fuel economy and CO2 emissions in the PHEV. The all-electric range is said to improve slightly, too. If the 8% boost were translated to the European tests, the Outlander PHEV's previous 148mpg combined cycle showing would increase to 159mpg with 40g/km CO2 emissions.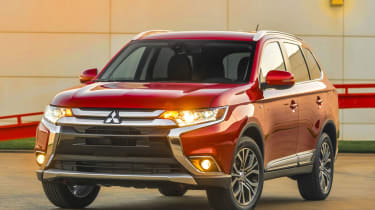 Mitsubishi revealed its new facelifted Outlander SUV at the 2015 New York Motor Show. The revised Outlander benefits from a revised front end treatment improved driving dynamics and a new CVT automatic gearbox. We expect to see the revised Outlander in the UK by October 2015.
The 2016 Outlander gets the 'Dynamic Shield' styling concept, inspired by the XR PHEV II concept seen at the Geneva Motor Show earlier in the year. The new look is being rolled out across the Mitsubishi range with new bumpers, grille and halogen headlights. LED technology is used for the daytime running lights at the front and rear.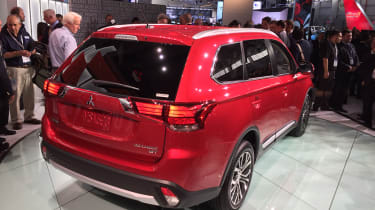 Inside, the cabin features softer materials, a redesigned steering wheel, Mitsubishi's new Multi Communication System (MMCS) featuring navigation, while a new sound system door trims and dashboard have also been added.
Mitsubishi has also taken extensive steps to improve the way Outlander drives. The new model gets improved structural rigidity and redesigned suspension to help its on-road dynamics while increased sound insulation keeps noise levels down. The new CVT automatic gearbox delivers improved performance too.
The Outlander has found most favour in the UK in PHEV plug-in hybrid format, and the all-wheel drive petrol-electric powertrain is continuing in the revised car with the improvements in economy mentioned above. The 150bhp diesel engine should get some efficiency tweaks, too.
Now check out our round-up of the best hybrid cars on sale now