Morgan EV3 Selfridges Edition celebrates two British icons
Morgan has launched the UK 1909 limited edition of its electric three-wheeler in partnership with the London department store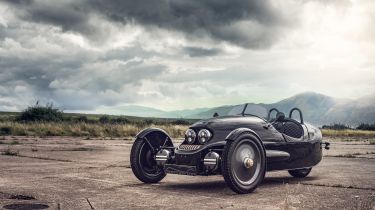 After we first saw it at the Geneva Motor Show, the Morgan EV3 electric three-wheeler has gone on sale with a limited production version in collaboration with high end department store Selfridges.
Only 19 #UK1909 limited edition versions of the EV3 will be produced, all of which will be sold through the iconic British store's four outlets around England. Both companies were founded in 1909, hence the partnership.
Morgan has released a video of the #UK1909 limited edition EV3 - head designer Jon Wells talks customers through the decision to commission the EV3, and why the partnership with Selfridges fits in with both companies visions - watch it here:
The Selfridges edition adds to the uniquely retro look of the EV3 with bronze grilles and a special black hue with bronze detailing – reminiscent of the Oxford Street store's name plaque. A subtle Selfridge & co. emblem on the bodywork finishes the limited edition changes.
As part of the unique partnership, Selfridges has enlisted 9 British brands to produce clothing in the form of a 'driving kit' that complements the car. The 9-piece set can be ordered only by owners of the Selfridge EV3.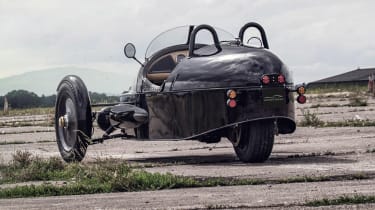 The EV3 claims a zero-emissions range of 150 miles and a sub-9 second 0-60mph time, with a top speed expected to be around 90mph. The new model is not only the company's first electric vehicle, but it also signals Morgan's first move into the world of carbon composite body panels.
Under its stylish new skin, the EV3 retains Morgan's traditional ash body structure with a tubular space frame chassis. Power comes from a 20kW lithium battery, and a liquid-cooled 61bhp motor driving the rear wheel. With all-up weight of less than 500kgs, that should be enough to make it sprightly.
The Selfridges Morgan EV3's first public debut will be at the Salon Prive concours d'Elegance in September, before it launches first at Selfridges Birmingham in October.
What do you think of the Morgan EV3 limited edition? Let us know in the comments...