Morgan announces Frazer-Nash Energy Systems partnership and Q3 2018 production for EV3
Morgan ties up with Frazer-Nash Energy Systems ahead of EV3 hitting production lines next year
Morgan has announced that its all-electric three-wheeler - the EV3 - will go into production in Q3 2018, plus a new technical partnership with Frazer-Nash Energy Systems.
The partnership will see the EV3 make use of a new, 'more robust' electric architecture and new powertrain components. With these parts in place, Morgan quotes some updated production model performance figures.
Morgan claims that the EV3 will boast a range of around 120 miles thanks to a 21 kWh lithium-ion battery pack encased within a tubular space frame chassis. The battery feeds a 34.8kW motor driving the rear wheel. Morgan says that with the Frazer-Nash parts in place, the EV3 gets a lower centre of gravity and a greater spurt of acceleration than previously expected, and comes with comparable performance figures to its petrol powered sibling.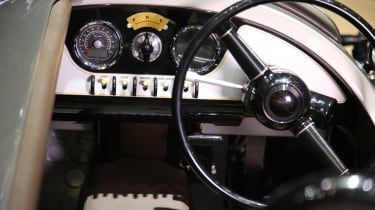 Revealed at the Geneva Motor Show back in 2016, the style of the car "takes inspiration from the 1930s aero-engined race cars, classic motorcycles and 1950s fantasy automatons", the company says. "Brass conductive cooling fins encase the batteries and an off-centre tri-bar headlight adds to the overall asymmetry of the design."
The model also differs from the petrol version with a cut away body at the rear, which exposes more of the rear wheel. Described as a dramatic tail lift, it's designed to impart a visually forward stance, further enhanced by streamlined side-pods running back from the running lights.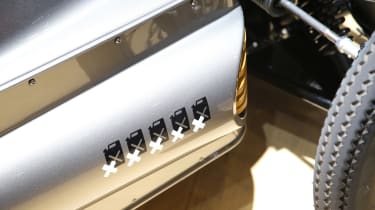 The EV3 features an all-new dashboard too, with a classic magneto-inspired drive mode switch, a digital display and lots of wood, brass and polished aluminium.
With all-up weight of less than 500kgs, the machine seems certain to provide real driving thrills, and Morgan says the car looks at the world of electric motoring from an entirely unique perspective: "What if an all-electric vehicle was bespoke, hand-crafted and exhilarating to drive?" 
Morgan announced previously it was leading a £6m Government-funded consortium to develop new EV and hybrid technologies – promising more new technology will be introduced across its hand-built sports car range from 2019.
Are you looking forward to the Morgan EV3? Tell us your thoughts in the comments!