Ford Kuga recall: Ford finds fix for faulty PHEV battery pack
Ford has released an action plan for its recent Kuga PHEV recall, which involves completely replacing the defective battery packs with fresh units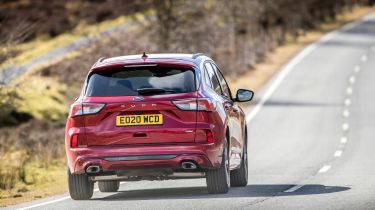 Ford will replace all battery packs fitted to the Kuga PHEV, after the manufacturer issued an official recall for the model earlier this year.
The recall process was set into motion this summer, after Ford received four reports of Kuga PHEV models catching fire. The problem was eventually narrowed down to a discrepancy in the manufacturing process of the SUV's battery packs, which may have introduced foreign contaminants into the cells during assembly.
This, in turn, had the potential to short circuit the battery pack and overheat it, causing the cells to vent hot gasses and set fire to the components surrounding the battery pack. BMW also uses the same battery supplier as Ford – and the German company issued an identical recall earlier this month for all of its plug-in hybrid cars.
Ford's fix for the issue is to recall all Kuga PHEVs and replace the entire battery pack and associated electrical equipment. The repair process is due to start in late December this year – and Ford aims to have all faulty vehicles repaired and back on the road by the end of March 2021.
Ford assures us that the recalled Kuga PHEVs are still perfectly safe to drive, providing owners don't charge their vehicles and only drive the car in either "EV Auto" or "Normal" mode – as these precautions place the least amount of strain on the car's battery pack. 
As a goodwill gesture for the inconvenience caused by the recall, Ford says it will also place an extended manufacturer warranty on every affected model – and every Kuga PHEV owner will be given a £500 fuel card for use at BP fuel stations.
Are you affected by Ford's recall for the Kuga PHEV? Let us know in the comments section below…