Nissan to skip plug-in hybrid tech with e-Power hybrid and pure EV strategy
Nissan is not planning to utilise new plug-in hybrid drivetrains being developed by Renault-Nissan-Mitsubishi group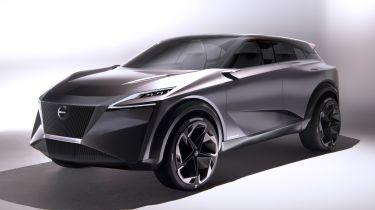 Nissan looks set to skip past plug-in hybrid technology with a two-pronged electrification strategy which will see the brand rely on its e-Power plugless hybrid drivetrain and pure EVs only.
At the Geneva Motor Show, Nissan confirmed that the e-Power drivetrain - already popular in Japan - would be available in Europe by 2022 at the latest. Fitted to the brand's new IMQ concept, which itself signals the upcoming Qashqai, the drivetrain combines a petrol engine with a power generator, a battery and an electric motor to drive the vehicle.
• 2019 Geneva Motor Show: live coverage
Much like the system fitted to the Fisker Karma, Nissan's e-Power drivetrain works by using the petrol engine to charge the car's batteries, which powers the electric motor, driving the car.
In Japan it's fitted to the Note hatchback and Serena people carrier. Currently, more than 70 per cent of Notes and around 50 per cent of Serenas sold in Japan are fitted with the e-Power drivetrain.
Speaking to Auto Express on the show floor, Nissan's global product boss Ivan Espinosa explained: "Our main goal is battery EV and we are gradually transitioning to that. e-Power is the second pillar as it allows us to bridge to EV technology. They can exist together. There are customers for both and I think in a five to ten year time frame this will still be the case.
"The two pillars of our strategy are battery EV and e-Power. But the good thing about the [Renault-Nissan-Mitsubishi] Alliance is that the technology is there. If at some point in time we want to use it [plug-in hybrid] for any purpose or reason, the tech is there. But the heart of our strategy is EV and e-Power".
Mitsubishi has offered a plug-in hybrid version of the Outlander for years, while Renault is expected to begin production of PHEV vehicles shortly.
Nissan has already announced plans to produce a fully-electric crossover which the brand claims will be one of eight all-electric vehicles it will reveal by 2022. The new model will be a C-segment SUV using the New Alliance Electric Platform currently under development by Renault-Nissan-Mitsubishi. However, not all of those eight vehicles will be on the new platform, and not all of them will be designed for the European market.
The Japanese manufacturer has already enjoyed great success with its all-electric Leaf. To date, 400,000 examples have found buyers, making it the world's best-selling electric car.
Later this year, the Japanese firm will also release the Nissan Energy ROAM power pack; a portable, weatherproof energy storage system made from repurposed Leaf batteries. It can store 700Wh of charge and has a power output 1kW, giving users the ability to access 230V or 12V power wherever they please.
What are your thoughts on Nissan's new e-Power drivetrain? Let us know in the comments section below…