Nissan maps electric car future with new battery tech and charging network
Nissan aims to build on its head start in the electric car field with advanced battery tech and charging infrastructure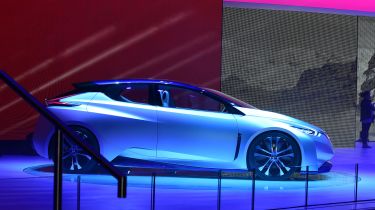 Nissan has laid bare its vision for an electric future at the Geneva Motor Show, which includes a radical new charging infrastructure and new battery technology to deliver a range of more than 340 miles on a charge.
The new battery technology is under development. By boosting energy density and performance, the new 60kWh battery is targeted to deliver a range of 341 miles on a single charge.
It's likely that the battery technology will appear in an updated version of the current Nissan LEAF, as well as in the e-NV200, although Nissan's European general manager for electric vehicles Gareth Dunsmore hinted that those models could just be the start.
340-mile range is the target, cost is the barrier
But he said Nissan must be confident in the battery's durability and that it can be offered at the right price: "It would be very easy to launch the 60kWh battery announced today capable of 550km but it needs to have the right cost. When that comes in, it's something we'll make available very quickly."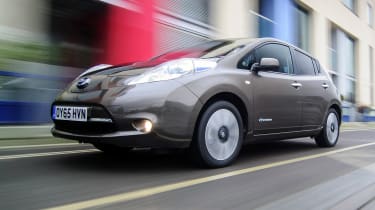 Dunsmore also said many buyers think they need a longer range than they really do, but: "Why shouldn't you be able to drive long distance to see your grandma, or take your kids to an away match in an electric vehicle. There are two areas of rapid development. One is quick chargers with top-up charging ability, which needs to be everywhere. On the other side, it's about given you extra range.
"We have a battery now with 550km (341 miles). That's where we need to get to. That's the aim. That satisfies everything; you really don't need more."
Grid-integrated car charging the next step
Nissan has recently announced that its new office in France will house the largest grid-integrated electric vehicle system and 'second-life' battery storage unit in the world. The system allows drivers to plug their cars in and draw electricity from the grip at off-peak periods and gives the ability to 'sell back' the stored energy to the grid.
The 'second-life' batteries are those that have been removed from cars once they have reached the end of their useful life. Although no longer able to deliver the power required for an EV, they are perfectly suitable for other applications.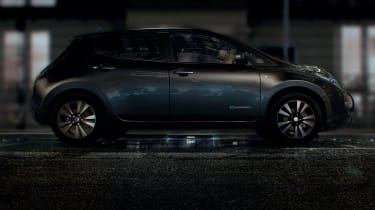 Dunsmore said drivers get paid to receive energy. He said: "Energy will become a shareable commodity. When you share anything in life, you get paid for it, like Airbnb where you share your own home and get paid for it. You'll be able to share the energy you've made you've made from your solar panels, the energy you've collected from work, for free perhaps, and it will profitable for you. A trial in Denmark has generated between £1,000 and £2,000 a year, depending on how much the system is used.
Nissan is also assessing ways which wireless charging could be used. Dunsmore suggested areas where traffic is stationary, such as at traffic lights, are prime candidates because wireless charging is more efficient when the car isn't moving. He also indicated that utility companies could play a bigger part but opening up their under-road pipework to the technology.
Get more of the top news stories from the 2016 Geneva Motor Show here...