"Sunderland's Nissan plant shines after 30 years - here's to 30 more"
It's impossible to overstate the importance of Nissan's Wearside plant to the UK car industry, says Graham Hope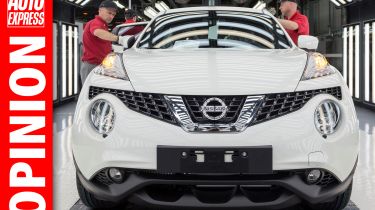 Thirty years ago this month, the doors opened at a car factory that was a leap of faith for its owner, Nissan, which had never previously built a plant outside its native Japan.
The importance of the occasion was underlined by the fact that then Prime Minister Margaret Thatcher did the honours, but few at the time could have predicted just how significant the Sunderland factory would become, not just for the United Kingdom, but in global terms.
Fast forward to 2016, and it's impossible to overstate the impact of the Wearside facility. For the north-east of England it has been a life-saver, with a direct workforce of 7,000 and around 40,000 other jobs reliant on the factory. 
• Nissan boss: future investment in Sunderland plant on Brexit terms
For Nissan it has been a production powerhouse, responsible for cars such as the Micra, Qashqai, Juke and Leaf, and now churning out over 500,000 models a year – a rate of 117 per hour.
For the industry at large, it is a shining example of efficiency and an unmistakable symbol of the enduring relevance of British car manufacturing.
How ironic, then, that at a time when Sunderland should be celebrating, there is a degree of unease in the air over its future, caused by the reluctance of our political leaders to lay out a coherent roadmap for the country in the wake of June's Brexit vote.
• Nissan Sunderland's success story: UK car manufacturing at its best
Let's be clear: it is uncertainty rather than widespread alarm we are talking about here. We simply don't know enough about how the UK will trade with Europe in future to make an educated guess on what the implications are for Sunderland.
What we can say with conviction, though, is that if ever there was a car manufacturing facility that deserves the chance to continue its success story, it's this one. Thanks for the past 30 years, Sunderland, and here's to many more. 
What are your thoughts on Nissan's Sunderland plant? Leave us a comment below...