Top tips for a clean car (sponsored)
Cleaning your car is an essential part of routine maintenance. We show you how to do it right.
Car maintenance isn't just a case of making sure the oily bits are kept in good order, but also making sure your car is clean. Having a dirty car inside and out isn't just unsightly, but can reduce your car's value and desirability.
Your local Nissan dealer is an expert at maintaining your car's condition – here are their top tips on to keep your car shining.
Keeping the outside of your car clean is an easy thing to do, but to get the best results there are some important rules to follow.
The first is to not be tempted by the convenience of an automatic car wash. They might be quick and do a reasonable job, but you could find them damage your car's paintwork with their heavy brushes. It's far better to do it yourself.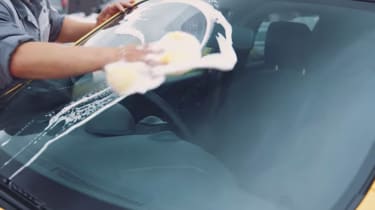 How to wash a car
Nissan's experts recommend filling two buckets of water – one with water, the other with a mixture of water and high quality shampoo. Next, spray the car with water with a hose as this loosens the dirt and grime.
Take a sponge, soak it in the foamy water and start at the top of the car. Work in sections – once you've finished one section, rinse the sponge in the clean water.
Repeat this until the whole car has been lathered, making sure you lather the dirtiest areas last. Rinse thoroughly using clean water and then use a jumbo microfibre drying towel or a chamois leather to dry off the car.
You should give your windows special attention. Having dirty windows increases the chances of having an accident, so keep them clear. A simple window cleaner is fine for the inside, but make sure it's of decent quality so it doesn't smear.
Wash the outside of the windows with soap and water, remembering to clean the wiper blades – these can become filthy and any grit caught in them could damage your windscreen.
How to clean your alloy wheels
You'll want to clean the wheels too, but make sure to do this separately from washing the paintwork.
Spray them with a hose to moisten the dirt and then use a special wheel cleaner. Apply the solution onto the wheel, following the instructions, wipe and then rinse off.
It's also a good idea to add a little wax so that brake dust clings to the wax rather than the wheel. That'll make it much easier when you come to clean your wheels the next time.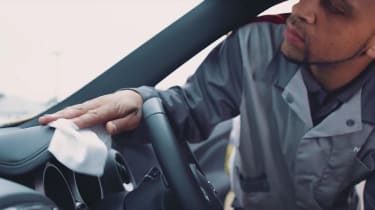 How to clean your car's interior
You shouldn't forget the inside of the car either. Give the carpets and seats a thorough vacuum and wipe all the plastic surfaces down. There are plenty of cleaning products available to help you with this.
If your car has leather seats you should use a special leather cleaner that removes dirt and nourishes the leather. Firstly vacuum the seats, take a microfibre cloth and apply the cleaner and rub into the leather. Use a small brush to agitate the leather, and then wipe the seats with a clean microfibre cloth.  
For more information on keeping your car's bodywork and interior in peak condition visit your local Nissan dealer.
More Nissan Service Care tips...
• How to prepare your car for your holidays• How to use a puncture repair kit• How to top up and check your engine oil• How to change your car air filter• Five ways to help pass your MoT