Nissan Leaf 'Eco-Hearse' offers environmentally friendly final trip
Want your last journey to be as environmentally friendly as possible? One UK funeral director thinks there's a market for an 'Eco-Hearse'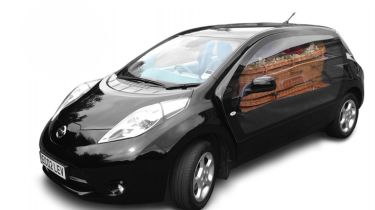 A UK based funeral director has taken on a modified Nissan Leaf, offering its patrons an environmentally friendly last journey.
Leverson & Sons –the funeral directors in question - claim that the Leaf hearse is the UK's first all-electric 'Eco-Hearse', and it's available for hire alongside more traditional funeral cars.
• Best electric cars on sale 2017
Developed and built by Northamptonshire based Brahms Electric Vehicles, the Leaf needs to undergo several major modifications in order to make it procession worthy.
The most obvious modification is on the passenger side of the vehicle – the doors have been replaced with one large glass panel, so it's possible to load a coffin into the car. A new horizontal crash beam has been placed on that side of the Leaf too.
The coffin itself takes up plenty of space in the cabin, so much so that the driver actually sits alongside it rather than in front of it. A motorised deck means it can be raised or lowered, so it doesn't impede the driver's side view.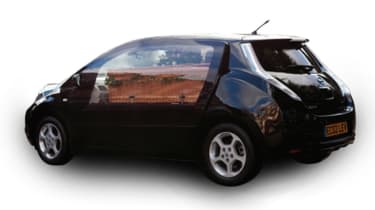 With the modifications in place, range does take a hit – the Leaf hearse is capable of a claimed 85 miles on a single charge compared to the 124-mile claimed range of the entry level 24kWh car as it comes from the factory. Brahms, the Eco-Hearse's maker, says that the fuel savings compared to a gas guzzling traditional hearse means it makes sense though.
Unsurprisingly, Leverson & Sons also offers Leafs as procession cars, and for the most environmentally friendly send-off possible biodegradable coffins are available too.
Do electric hearses sound like a good idea? Let us know your thoughts in the comments.