'Get your fill of combustion fun while you still can'
Steve Fowler thinks we should enjoy the pleasures of internal combustion motoring before it becomes extinct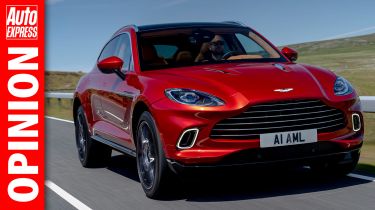 Well that makes a change: this week we've been behind the wheel of some of the most important – and most exciting – cars we've driven for a while, and there isn't a hint of electrification in sight.
Let's start with the Aston Martin DBX: it's a simply astonishing car. Quite how chassis guru Matt Becker and his team have managed to make an SUV handle more like a sports car is something I can't fathom. The combination of clever engineering and use of modern technology has produced a car that's sensational to drive.
It's also got a fabulous 4.0-litre twin-turbo V8 under the bonnet that catapults the DBX down the road at an incredible rate of knots, and it sounds awesome. There's no hybrid drive and no plug – just good old-fashioned horsepower.
Volkswagen is seemingly obsessed with electric power right now as it prepares to launch its ID.3. But it hasn't forgotten its roots, and the new Golf GTI is not only faster than ever, but, just like the Aston, there isn't a plug in sight. And as with the DBX, it's great fun.
Then there's our group test this week, where we pit the latest version of the BMW M2 against the Porsche 718 Cayman GTS and Alpine A110 S – another reason to remind ourselves just how lucky we are!
None of these cars features electrification, and every one of them would thrill you on a cross-country blast plus – dare we say it – they could well become collector's items.
Why? They might be the last of their kind. These new cars without any form of electrification will become a thing of the past – it's sadly inevitable. So Aston Martin, which has done so well to make a 2,200kg car handle like a lightweight sports car, will be forced to add in weight as the DBX will undoubtedly become electrified at some stage. VW's Golf GTI Mk9 will surely be a hybrid of some sort. As for the BMW, Porsche and Alpine... it's got to happen. My advice? Get in quick, before it's too late.
Looking for an affordable fully-electric car? Check out our cheapest electric cars list here...