'Other brands should be a bit more Tesla'
Editor-in-chief Steve Fowler thinks Tesla should be praised for its original approach to selling cars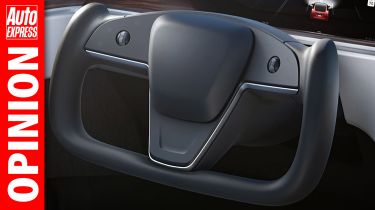 Okay, so we probably won't get the Tesla Model S's Knight Rider-style steering wheel in the UK, but it's another example of the brand's way of thinking. Can you imagine an established car maker putting something like that into one of their most popular models?
In advance of the latest Tesla financials release, I was asked to comment on why it's doing so well. And my answer was simple; it doesn't think like a car company.
From the design and engineering of the cars to the way they're all sold online (4pm on a Tuesday is, apparently, peak Tesla buying time), Tesla's clean sheet of paper approach has been a breath of fresh air for the car industry. Sure, there have been bumps along the way – not least as my phone has just rung with news of a friend of a friend having problems with his new Model 3 – but Tesla does things differently and other brands could do well to 'be a bit more Tesla'.
Even when we hear of car companies putting software at the heart of their future, it feels like they're paying lip service to the idea. Car companies do things a particular way, because that's the way they've always done it. And many are – wrongly – applying that to the latest tech, too.
Tesla's approach has not only given it an advantage in the EV market, it's also enabled it to bring safety tech, for example, to market quicker and better than rivals.
And do you know what else I like about the firm? It does it with a sense of humour that comes from knowing that there's more fun to be had in and with cars than just driving them. So why not enable your car to let you watch a movie or play a video game – at an appropriate time? What else is there to do while sitting in a car park waiting to pick up the kids?
What's just as exciting as watching what Tesla is going to do next and seeing how rivals react, is knowing that there's bound to be another Tesla out there we don't know about yet. But rest assured – as soon as we do, you will, too.
Let us know what you think of Tesla's strategy in the comments below...