"VW is the brand the others want to beat, but it's making life easier for them"
Editor-in-chief Steve Fowler thinks Volkswagen's drop in quality means the likes of Kia and Hyundai are simply doing things better right now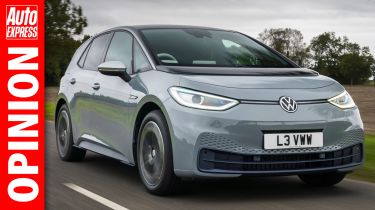 When it came to choosing a rival to put up against the new BMW 128ti (featured in this week's issue of Auto Express), it had to be the Volkswagen Golf GTI. Sure, there are faster and more fun hot hatches, but when it comes to all-round brilliance, it's the Golf GTI that's always been the best package.
It's the same across the rest of the range. From the up! to the Touareg, VW has always been the standard-setter, the one that other brands aim for. The badge is aspirational and affordable; it's about quality and technology. You can't go wrong with a VW.
Or can you? It's now under threat like never before, letting things slide that you used to take for granted.
Such as quality. We've been disappointed with the perceived build of a lot of VW products recently, from the GTI, to the ID.3 I've had my first proper taste of over the past week. Both are a step down in terms of the quality of fixtures and fittings compared with models of the past.
Does that matter? If costs are being cut where you can see them, what does that say for the areas you can't? It's a bit like being in a restaurant (remember them?). If the dining room's dirty, you can only imagine what the kitchen will be like – yuck!.
I really warmed to the ID.3 – literally. It was really efficient in defrosting the windows and warming up my backside – once I had navigated the infuriating touchscreen to find the controls! It was fun to drive and efficient, too. It looks great and has loads of room inside, and I loved the 'play' and 'pause' on the pedals – showing a Tesla-like sense of humour.
But the quality... Sadly, others (Hyundai and Kia, for example) do it better. I was left feeling that the ID.3 needs three things to make it the game changer VW intended it to be: improve the quality, soften the ride and sort the infotainment. Then I'd buy one. VW is still the one others want to beat. But it's making it easier right now.
Do you agree with Steve? Let us know your thoughts in the comments section...