'If you invest in a Jaguar now, it's going to look very out of date very quickly'
Jaguar's all-electric announcement has editor-in-chief Steve Fowler wondering what future cars will look like from the British brand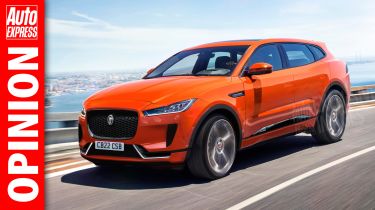 We've been waiting with bated breath for the first announcements from new Jaguar Land Rover CEO Thierry Bolloré and in his first press conference he didn't disappoint. He confirmed what Chief Creative Officer Gerry McGovern told us last year, that Jaguar was in for a total revamp in 2025, with the design team leading the way. 
He also confirmed that Jaguar will be going all-electric – as exclusively revealed by Auto Express last summer. And that the all-new, all-electric XJ, due to be revealed this year, has been axed – we weren't expecting that one.
So, knowing that the brand is going to be completely reinvented in 2025, why would you invest in a Jaguar in the next four years if it's going to look very out of date very quickly? Buy a Porsche today and you're pretty much assured your next Porsche will be more electrified, but it'll still look like a Porsche, and the brand will still stand for what it does now. Buy a Jag today and your next one in four years will be electric, but who knows more than that?
The next four years are going to be tough for dealers selling cars that aren't at the top of their game today, and are only going to become less desirable as 2025 approaches – the deals may be good ones! That's going to be a tough pill for JLR and its owners, Tata, to swallow.
Bolloré told me that he'll be leaving the designers free to make the most dramatic designs and that those designs and their proportions will dictate the all-electric platform they use – either developed in-house or bought in.
If it's the latter, that can never happen. As former Aston Martin CEO Andy Palmer told me, "There are something like 94 or 96 hard points on a platform, so the designer's job is almost joining the dots." That's not Gerry's style, which means if design is leading this, another expensive in-house EV platform is likely. Let's hope Tata has deep pockets – I, for one, can't wait to see what Gerry has up his sleeve.
Check out the best electric cars you can buy here...