'I was cynical about Hyundai's aim to be the world's 2nd biggest carmaker, not now'
Steve Fowler is impressed by Hyundai's electric cars, its N division and now its luxury Genesis brand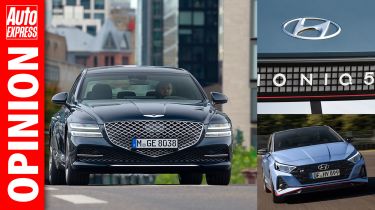 Being a journalist means you have a healthy dose of built-in cynicism. So I'll admit to turning up at the launch of the new Genesis GV80 and G80 models not expecting them to be serious premium car contenders.
How wrong I was. Both cars are seriously impressive and – straight out of the box – serious contenders against serious rivals.
I guess I shouldn't be surprised, having seen how the Hyundai Motor Group has transformed itself and its brands (Hyundai, Kia and Genesis) over the past few years. I've been lucky enough to spend some time in Korea, where I've always been struck by Hyundai's eagerness to listen, learn and react – fast.
I remember being asked to feed back my thoughts on quality in a new product to Kia engineers some years ago. Two days later they presented their plans to me on how they'd be addressing my comments – starting on production cars in just a few months' time. Wow!
While Hyundai and Kia products have been improving at a rate of knots recently (and the Hyundai Tucson I've got at the moment has been described by my wife as one of the best cars I've ever had!), we've been massively impressed by the brand extensions: Hyundai's hot N models, the Hyundai Ioniq 5 and now Genesis.
Hyundai Motor Group is acting shrewdly and wisely, whether that's its investment in companies like Rimac, Arrival and Canoo, or choosing partners like Ineos to work with on hydrogen power – it all makes sense.
On another trip to Korea, I was shown a chart of the world's biggest car makers and told how Hyundai Motor Group was aiming for the number two slot. And yes, I was cynical about that at the time, too. Not now.
By focusing on what consumers really want – great-looking, great-driving, efficient, affordable, high-quality cars – Hyundai Motor Group is showing other car makers the way ahead right now. And there's much more to come. 
Check out our review on the new mild-hybrid Hyundai Tucson...