"We'd rather pay for a better stereo than more safety kit in our new cars"
Steve Fowler considers the British passion for in-car audio and highlights some of the world leading domestic hi-fi manufacturers making our new cars sound great...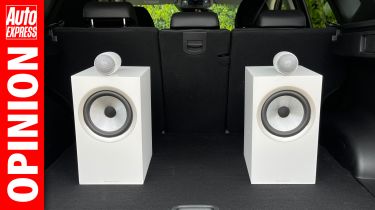 According to a recent poll we ran, buyers are more likely to tick an options box to upgrade their in-car sound system than they are to add important safety kit to a new car.
I can't say I'm surprised – the interest in and reaction to our recent feature on Rolls-Royce's Bespoke Audio shows there's a real passion for in-car hi-fi – for many being in the car is the best opportunity they have to listen to music these days.
The UK is home to some of the best hi-fi companies in the world, who are all keen to get their systems into the latest cars. One thing I spotted in my drive with Jenson Button in the new Lotus Emira was that Kent-based loudspeaker specialist KEF is supplying the speaker system for the new sports car.
I've long been a fan (and owner) of Bowers & Wilkins kit – they're my 705 S2 speakers in the picture above. Sussex-based B&W works with McLaren, BMW, Maserati, Polestar and Volvo, and I had a chance to listen to its latest system in a Volvo XC60 that uses the same Continuum drivers and Tweeter on Top tech as my own speakers. It really is a stunning sound, punchy and beautifully detailed, whatever type of music you play.
The challenges to get an in-car system to sound good are huge, as B&W's lead development engineer George Fryer told me. "Trying to find the best possible location for the loudspeaker is crucial, with constraints on what else has to go into the door or dash," he said. "The size of the enclosure has a big effect on the sound – the more space you have, the easier it is to make a bigger sound. The earlier we can get involved in the project, the better.
"The entertainment experience, as well as the driving experience, is becoming an important part of car ownership and that's witnessed by the number of buyers wanting to invest in premium audio in their cars."
Fryer's latest job has been with McLaren, working on the new Artura supercar – a tough gig. But it's great to see more British expertise leading the way on the world stage.
Read more from our Opinion section...