"The profit the Government makes on every electric car sold is indefensible"
Mike Rutherford thinks VAT is hitting the affordability of electric cars, and thus driving down sales in showrooms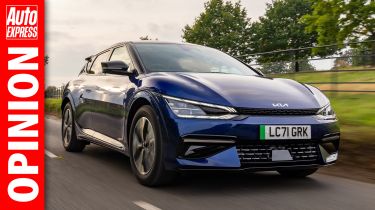 We need to talk about VAT and its role in preventing drivers buying pure-electric cars. In his Autumn Budget, Chancellor Rishi Sunak barely mentioned Value Added Tax, never mind the harm it does to electric car retail prices. Truth is, VAT is seriously hitting affordability, and killing sales in showrooms that must sell more of them to meet the Government's own eco targets.
Pure electric cars are genuinely costlier to build in the first place so, for the end consumer, they're naturally more expensive than equivalent combustion-engined models. That's fair enough and justifiable – if financially painful. But the excessive "profit" the Government makes on every EV sold to a private driver is unfair and indefensible, even if grants are available for sub-£35,000 cars.
The flavour-of-the-month EV is not built by a premium car company, but is from humble Kia, a firm that sits in the same, "everyday vehicle" league as the likes of Ford or Vauxhall. So, what's the VAT bill slapped on the EV6? How about £6,707 for the bog-standard Air version or a whopping £8,541 for the GT-Line S. How's that for cashing in? The pricier EVs, which the Government loves, rake in almost twice the VAT revenue of cheaper internal combustion-engined vehicles it hates. Kerching!
This quick and easy profit of almost £9,000 (for doing what?) on just one EV6 GT-Line S sale is almost certainly greater than the combined profits of the manufacturer, shipping companies, dealership, and all others involved in the single transaction. It's not just silent profiteering on the part of the UK Gov. It's counter-productive. How the hell can a near-£9k VAT bill for a new, five-door, five-seat Kia EV6 be roughly the same as the total all-in (VAT included) price of a slightly smaller but still new, five-door, five-seat petrol-powered Dacia Sandero? That's financial insanity – enough to force cash-strapped motorists (that's most of us) away from family EVs.
There's a quick and easy cure for all this: reduce the standard (20 per cent) VAT rate on pure EVs. Better still, eliminate it altogether. In 2011 it was a greedy Conservative Chancellor George Osborne who increased VAT to that record 20 per cent level. So, it'd be fitting and productive for Conservative Chancellor Sunak to be flexible and move it in the opposite direction – at least for some crucially important green or safety-related products such as electric vehicles.
After all, in spite of their high prices, EVs are not gratuitous luxuries but necessities (especially in urban environments), designed to transport drivers, passengers, bicycles, work tools, groceries and other light goods in clean, green, quiet, safe fashion. So a 10 per cent VAT rate is more than justifiable, while zero percent is preferable.
Since the Government has taken on the greatest challenge in motoring history by trying to turn consumers on to pure electric cars, the least it can do is turn off the punitive 20 per cent VAT rate that's holding them back.
Click here for our list of the best electric cars on sale...