'Sony's arrival as a car maker could be the most exciting in ages'
Steve Fowler thinks Sony could hit the ground running in the electric car market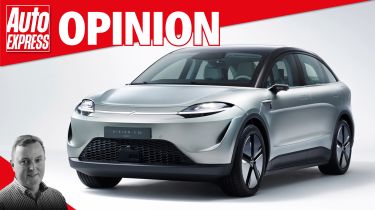 What does Sony mean to you? The days when it was king of the hill in the audio and TV worlds are long gone, but most of us on the Auto Express team remember Walkmans, TVs and even Sony mobile phones fondly. 
If you broaden the conversation out to the next generation of new car buyers – and I have three of them in my household – Sony means PlayStation and Pictures; the company was behind the latest Spider-Man movie!
Which puts the brand in an interesting place when it comes to cars. Clearly it has zero pedigree in the automotive world, other than supplying parts to car makers, and its first concept car in 2020. But, then, Tesla...
It certainly got our team talking – and the prospect of Sony promoting a car through its PlayStation platform, or in its movies, is the sort of marketing other car makers spend millions on – although it rarely pays off.
A Sony car could arrive with an element of cool that makes it instantly desirable, as well as a focus on tech and infotainment with real provenance. 
But can we trust the company to develop and build a complex new electric car? Ultimately, it doesn't have to – not with the likes of Magna around.
Magna is one of the biggest car companies you've never heard of. It's the company that car companies employ to engineer and build their cars. It has already been working with Sony, it's working with Fisker and it's also working on the Ineos Grenadier. 
And currently Magna's plants build the Jaguar I and E-Pace, the BMW 5 Series and Z4 (and its Toyota Supra sibling) and the Mercedes G-Class. The list of past cars and clients is similarly impressive.
What makes a car desirable these days is not only what it looks and drives like, but what the brand stands for and how it's marketed. Sony may well have lost out to the Koreans in the TV world, but its arrival on the car scene could be one of the most exciting we've seen for ages.
Check out the latest on Sony's plans for an electric car here...