"Have we witnessed the death of the Paris Motor Show?"
With so many big brands missing the 2022 Paris Motor Show, associate editor Sean Carson fears for its future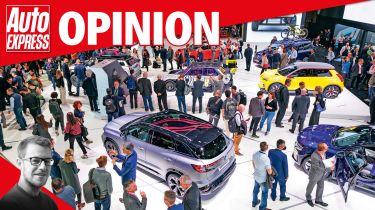 It felt like Paris had fallen out of love with the motor show – if last week's expo in the French capital was anything to go by. The feeling from the uncarpeted concrete hall floors (a sign of budget cuts?) was one of uncertainty over the future of the event.
Motor shows are propped up by the brands that pay to attend them, and while there were still some key cars making debuts – Renault's 4Ever Trophy concept and Jeep's Avenger were two of the big ones – most car makers were notable by their absence. None of the big German brands made an appearance; Mercedes had the audacity to hold its own event at the same time in the same city.
Just two main halls were occupied, with Renault and Dacia, plus Stellantis brands Jeep, DS and Peugeot making up the lion's share of European attendees.
Even then, Stellantis CEO Carlos Tavares told me: "Car makers are now much more picky on the return on their investment. The cost of motor shows has increased dramatically, so all of the cars are on ground level now – no more big stand constructions. If you're below a certain level when it comes to return on investment, you don't go."
There was another theme to emerge from Paris: Chinese manufacturers aren't "coming to Europe", they're here now. BYD, Wey and Ora all went big, along with Vietnamese brand VinFast. Tavares even acknowledged this, saying: "You mostly have us, Stellantis, plus the Chinese."
Many big brands have already declared they won't go back to events such as these and, with the Geneva Motor Show now moving to Qatar, it seems that IAA Mobility in Munich, Germany, will probably be the only sizeable event to take place in Europe next year. The pandemic has had a massive impact on how the automotive industry works, and it seems that its effects (combined with other pressure from the component crisis and the war in Ukraine, of course) could sound the death knell for the Paris show – it certainly felt like it. If that is the case, then we bid it a sad au revoir.
Do you agree with Sean? Let us know your thoughts on the Paris Motor Show's future in the comments section...