"The Nissan Qashqai is just one of many British car industry success stories in 2022"
Editor-in-chief Steve Fowler looks forward to 2023 after enjoying a year of British success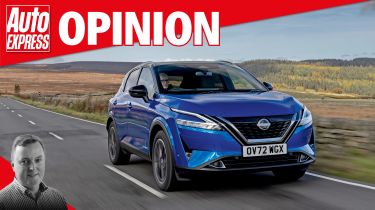 I'm going to take a bit of a flyer declaring this pre-Christmas, but I reckon it's safe to say the best-selling car of 2022 will be the British-built Nissan Qashqai.
Year-to-date numbers give it a lead in the sales charts of more than 4,500, with last year's number one, the Vauxhall Corsa, in second place. I'm not sure even Vauxhall's super-salespeople will be able to overturn that during the traditionally slow sales month of December.
The Qashqai's sales success, whether it stays at number one or not, is hugely significant for Nissan in a year that its all-new Ariya was named Auto Express Car of the Year – taking 10 years' worth of EV learning from the Nissan Leaf and putting it into the stunning and brilliant Ariya.
The latest Qashqai's popularity is also down to two other things: Nissan has managed the component crisis better than many, to be able to keep rolling Qashqais out of the Sunderland factory gates, through dealerships and into the hands of happy owners. Few have matched its skill in this area.
Then there's the talents of the workforce in Sunderland. It's been one of Europe's most productive factories for decades and it's no wonder Nissan isn't shy about further investment in the future of production in the North East.
We've seen some incredible British success stories elsewhere this year, with brilliant new cars launched by Land Rover, Lotus, Bentley, McLaren, Rolls-Royce and (with a British R&D and design base) MG.
There's much more where that came from, too, with more and more companies using British expertise here and around the world. Roll on 2023.
On behalf of the whole team, thanks for your support in making us Britain's favourite weekly car magazine again in 2022; it really is appreciated.
Have a very merry Christmas and a happy, healthy 2023.
Click here for our list of the best electric cars on sale right now...