"The Citroen C4 wiped the floor with the opposition in the latest Driver Power survey"
Current affairs editor Chris Rosamond believes Driver Power can reinforce reputations or rebuild them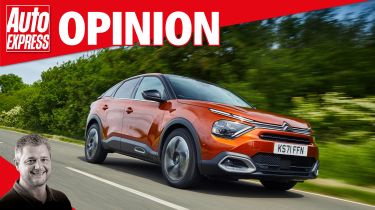 A Citroen hatchback winning the 2023 Driver Power New Car survey, outright? Zut Alors! Such may be the response of many a reader who, like me, is old enough to have been brainwashed at childhood into believing the old clichés about French cars.
Namely, that they're flimsy motorised sheds with a frivolous disregard for the need to be anything more than loosely fastened together as they wheeze and wallow over the local farmer's field on journeys typically involving a basket of eggs.
A largely undeserved reputation, of course, but it amused us, which is presumably how it gained traction in an era when we Brits were knocking out Allegros and Marinas that fell apart on contact with fresh air. Unlike British Leyland and its constituent brands, though, Citroen never went away so the clichés could die with it; plenty still harbour notions of the brand's unreliability.
Not today's Citroen owners though, and certainly not those fortunate to be in possession of the UK's most satisfying car to own– the latest C4 – a model whose Driver Power ratings can only be described as 'magnifique'.
It wipes the floor with its survey opposition, with strong scores in every category, including a win for overall quality. If that feels like an entirely new narrative, then you haven't been paying attention for the last few years, because Citroen has been rewriting its quality story.
But while Citroen proves reputations may be forged anew in the Driver Power furnace, they can be reinforced, too. JLR must dread the annual outpouring of angst that routinely ranks their products in the lowest tiers of the Driver Power survey for crucial values such as reliability and value for money. This year the Discovery Sport takes last place for overall quality, while the Range Rover Evoque and Jaguar I-Pace occupy the final two spots for reliability. The people have spoken.
Click here to take the Driver Power survey right now....