New Peugeot 108 2014 review
We see if new Peugeot 108 impresses as much as its Toyota and Citroen sister cars
Peugeot has done a good job of creating a car with style and technology that now feels a lot more grown-up than the model it replaces – just as Toyota and Citroen have done with the new Aygo and C1. It's not our favourite model in this class, but Peugeot knows what buyers want, so don't be surprised to see plenty of 108s on the road.
We've tried the Aygo and C1, and now we've driven the final member of the new PSA-Toyota city car tie-up: the Peugeot 108. It's offered with 1.0 or 1.2-litre petrol engines and our test car is powered by the bigger-capacity version in high-spec Allure trim.
As with the Aygo and C1, Peugeot has gone for a bold design with the 108. It revolves around the company's latest design language, which includes a floating chrome grille and a set of stepped, narrow headlights.
As for the interior, Peugeot has upped the look and feel of everything. The most obvious change is the addition of a seven-inch colour touchscreen for all but entry-level Access cars, which Peugeot reckons will make up less than five per cent of sales. The display can mirror what's on your phone, working with its functions like Google Maps so you essentially get free sat-nav. Sadly, with the Samsung Galaxy S3 we had, it was slow to react, difficult to negotiate and prone to crashing. The set-up isn't compatible with the latest iPhone yet, either.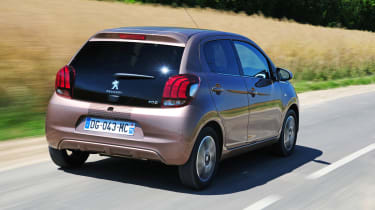 Elsewhere, cabin quality is OK, and you can put your own spin on it with a few different 'ambiences', in the shape of various sticker and colour choices. Ultimately, Skoda's Citigo feels better built, even though it's not as glamorous. There's enough room to squeeze into the back of the three-door if you have to, although it can be a struggle to get in and out, so if you plan to use these seats regularly, the five-door is a must. Either way, the 196-litre boot was big enough to take two weekend bags and a load of camera gear. Need more room? The rear seats fold 50:50.
More reviews
Car group tests
In-depth reviews
Used car tests
The 82bhp 1.2-litre three-cylinder is developed by Peugeot-Citroen – Toyota engineered the 68bhp 1.0-litre – and this bigger engine is definitely the one to go for if you plan to do a lot of driving out of town. While the 1.0-litre feels fine up to about 30mph, floor it at any speed beyond that and it'll take you ages to make any progress: 50-70mph in top gear takes 15.9 seconds in our car, but in the 1.0-litre, it's 29.8 seconds.
The 0-62mph times reveal the cars aren't far apart at lower speeds: the 1.2 does it in 10.9 seconds, with the 1.0 only 1.9 seconds behind. Otherwise, there's not much between the engines, which means they're both a bit noisy compared with the three-cylinder in a Citigo.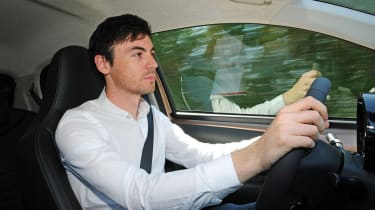 It's also important to know that if you want high-spec Allure or Feline, you have to get the 1.2. The basic Access or Active only come with the 1.0-litre – there is no choice. Still, both emit less than 100g/km of CO2 – the 1.0 puts out 95g/km and the 1.2 99g/km. There's also a version with stop-start that gets 88g/km. Whichever you go for, the 108 feels more grown-up than the 107 it replaces. Not just because of the kit in our Allure – like keyless go, a reversing camera and a leather steering wheel – but as it's more refined and comfortable.
The ride is more adept at dealing with potholes and ridges, with less of the old car's cheap-feeling crashiness. Motorway journeys are also more relaxing. You no longer have to turn up the radio to hear it over the wind noise and tyre roar.
So is the 108 our new favourite city car? Well, the Citigo still does a better job of feeling like a larger, pricier car. But the Peugeot has a lot of the components that matter in this class – an eye-catching design, a value price and lots of scope for personalisation. Plus, there's even a TOP! version with a peel-back roof.