All future Peugeot Sport performance models to be hybrid or electric
Peugeot confirms the end of combustion-only performance cars. The new 508 Sport Engineered will kick-off a hot plug-in family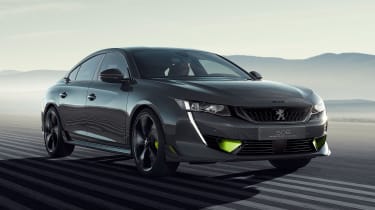 Peugeot has confirmed that the days of its combustion engined performance cars are coming to an end. Speaking exclusively to Auto Express at the Geneva Motor Show, Peugeot Sport boss Bruno Famin stated that from now on, "there will be no more pure combustion engined performance cars."
This has significant bearing on the future of the hot hatch market, with confirmation that both the 208 GTI and 308 GTI will not be replaced - at least in their current petrol-powered form.
• Peugeot to offer all-electric 208 GTi
Instead, Peugeot Sport will develop a range of fast plug-in hybrids and, though still in the feasibility study stage, full-EV variants, too. "This new line of electrified performance vehicles can be also pure EV, but it's not yet finalised," said Famin, who confirmed that Peugeot Sport is considering a hot version of the battery-powered 208. "We are working on a project on our new EV… We are still working on technical feasibility and cost profitability."
Peugeot Sport is looking to use a former disadvantage against its rivals - the fact that the largest combustion engine at its disposal within the PSA group measured a modest 1.6 litres in capacity. The firm sees its small petrol engine as an opportunity to snatch a lead when it comes to selling low-emission performance cars.
The 1.6-litre turbo, which in its most powerful iteration produces 266bhp in the 308 GTI, will form a part of a plug-in hybrid powertrain. It will feature - albeit in a less powerful form - in the production version of the 508 PSE concept shown in Geneva. While the car could handle the engine in its highest state of tune, Famin explains that enabling the car to drop below 49k/km of CO2 emissions had a bearing on the decision.
As Bruno Famin explains, "Electrification will bring this power which is missing. Even if we stuck the 270 engine in the 508, it's not a big engine, but thanks to the hybridisation, we are going to reach a good level of performance."
Of course, all of the car's extra batteries add weight, which means that, should it go into production, an all-electric 208 GTi will lack the handling delicacy of its predecessor. "We are talking about 'new performance' rather than 'pure performance' like the 208 GTi or 205 GTi," says Famin, who goes on to explain that, in general, buyers today want the speed without making any concessions to comfort or refinement. "We are not chasing the weight just now - it is not a priority. There's not much benefit to saving 20-30 kilos when the weight of the battery adds much more."
What do you think the switch to electrification will mean for the Peugeot hot hatches of the future? Let us know in the comments...