Porsche buys a stake in Rimac
Porsche has taken a stake electric hypercar company Rimac Automobile and its subsidiary Greyp Bikes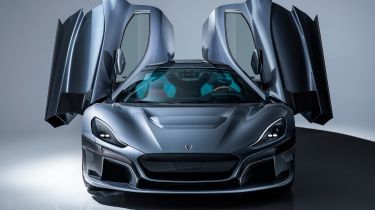 Porsche has bought a minority stake in performance electric car brand Rimac, the company behind the company behind the Concept One hypercar. In a statement, Rimac said that the deal aims to support its positioning as a leading EV technology supplier and high-performance electric vehicle manufacturer.
Croatia-based Rimac was founded in 2009 by CEO Mate Rimac and has grown to employ 400 people on the outskirts of Zagreb. Its subsidiary Greyp Bikes, which is also included in the Porsche partnership, is based at the same location and is developing an electric bicycle. In the wake of the Porsche deal, Mate Rimac remains Rimac's majority shareholder. 
• Paris Motor Show 2018 preview
Rimac is best know for its Concept One hypercar which employs a 1,270bhp electric motor to deliver a claimed 0-62mph time of 3.3 seconds and a 221mph top speed. This was followed-up by the lighter and more powerful Concept S at the 2017 Geneva Motor Show and at Geneva 2018 we were treated to the Rimac C_Two, the successor to the Concept One, with its 1,888bhp drive system. 
Porsche is making the leap into the EV market with its own Taycan sports car based on the Mission E concept but it will be looking to tap in to Rimac's expertise in this area under the new deal. 
Speaking about the tie-up with Porsche, Mate Rimac said: "Entering the collaborative partnership with Porsche AG is an important step in our strategy to become a leading EV technology supplier to the global OEMs. We are delighted to have gained a high level of trust from our investors, partners and customers and are looking forward to continue working on exciting projects with our clients across the automotive industry."
Lutz Meschke, Deputy Chairman of the Executive Board and Member of the Executive Board for Finance and IT at Porsche explained his company's position. "We feel that Rimac's ideas and approaches are extremely promising, which is why we hope to enter into close collaboration with the company in the form of a development partnership."
What will the deal with Rimac mean for the future of Porsche EVs? Let us know your thoughts below...