Porsche 911 Carrera 4S vs Audi R8
Supercars turn up the heat in the ice-cold conditions as the four-wheel-drive Porsche 911 C4S meets the facelifted Audi R8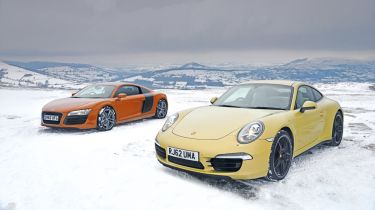 It's not just SUVs that venture out when the snow falls. These days, you can find grippy four-wheel-drive systems in almost every type of car, from superminis to supercoupes.
The latest to hit dealers is the Porsche 911 Carrera 4S. Based on the all-new 991 model, it combines Porsche's brilliant 395bhp 3.8-litre flat-six engine with an electronically controlled four-wheel-drive system.
But this isn't the only 4WD supercar on sale. Audi has a rich AWD heritage dating back to the original eighties Quattro rally car. Since then, nearly every model has benefited from this expertise, including the stunning R8. The mid-engined Audi R8 is now seven years old, and has been given its first facelift, which brings an S tronic twin-clutch gearbox.
So how does the 4.2-litre V8 R8 compare to the all-new 911 Carrera 4S PDK? We headed to the challenging and slippery roads of the Brecon Beacons in Wales to find out.
Verdict
At the start of this test, we pointed out that wintry weather makes the case for these cars more apparent. And it does. But in reality, the quality of their all-wheel drive systems is so far reaching that their appeal stretches across all weathers and road conditions.
The 911 and R8 deliver the extra traction, safety and grip of four-wheel drive without sacrificing the engagement, fun and agility you expect from a top-flight sports car. Performance is evenly matched, while on the road, they're both fast and reassuring. They're also beautifully engineered, high-quality products that look and sound great. So picking a winner isn't easy.
The R8 is still a wonderful car, but it's a shame the cabin wasn't given more of a freshen-up. It's more cramped than the 911, too, while a higher price and higher running costs further hold the car back.
That leaves the way clear for the Porsche to take a deserved victory. The Carrera 4S is a fraction more engaging than the R8, and delivers its performance with more flair. It's every bit as desirable as the two-wheel-drive 911, but unlike the Carrera 4, the all-wheel-drive system allows you to enjoy more of the S's greater performance for more of the time.