Porsche Cayenne Diesel 2015 review
Porsche's Cayenne Diesel performance SUV has been made even better for 2015. No wonder it's the company's biggest-selling car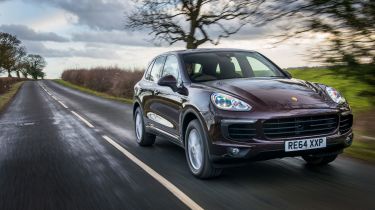 If you're looking for the sportiest and best-handling SUV in this class, then the Cayenne is still it. However, for that exact reason, it won't be for everyone. A Range Rover Sport is better if luxury and comfort are more your things. Styling changes to the Porsche range are minimal, but efficiency and performance improvements to this V6 diesel are welcome, which is why this is the pick of the range for us.
Porsche fanatics may have shrieked in horror when the Cayenne was launched in 2002, but over the next 13 years the car has become a hugely important part of the company's model range. In fact, the Cayenne is now the best-selling car that Porsche makes.
For 2015, the Cayenne has become that little bit more polished. Those 13 years have allowed the brand to refine and hone the recipe into one that is widely acknowledged to be one of the finest of its type. And the latest range comes with slightly revised looks, improved power outputs and lower fuel consumption. While you can choose between everything from an entry-level 3.6-litre V6 right up to the forthcoming full-fat V8-engined Turbo S with 562bhp, it's the 3.0-litre V6 diesel that takes the bulk of UK sales. And it's this model we drive here for the first time in the UK.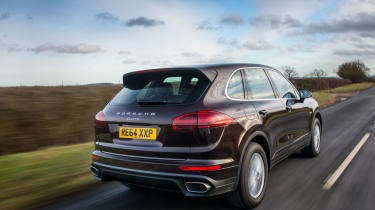 It's 13bhp more powerful than before, delivering 258bhp at 4,000rpm, and has 580Nm of torque. Economy and CO2 emissions of 42.8mpg and 173g/km mean it's 3.6mpg and 16g/km cleaner than the old car, too. Even so, the entry-level Diesel covers 0-62mph in only 7.3 seconds (0.3 seconds less than before) and tops out at 137mph.
• Best SUVs and 4x4s to buy now
The 3.0-litre turbocharged engine's great trait, though, is its power delivery – it arrives low down in the rev range and it only runs out of puff near the red line. It's worth revving it. That punchy engine is matched with a great chassis; the Cayenne handles better than ever, even on steel springs. But the £1,052 adaptive Porsche Active Suspension Management (PASM) is still worth the extra. Happily, the precise steering remains, as does the smooth-shifting eight-speed Tiptronic automatic gearbox.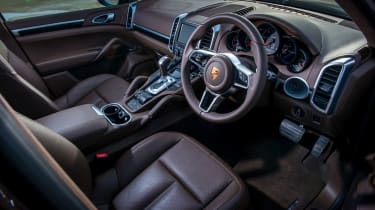 Spec is generous, with eight-way electric seats, dual-zone climate control and bi-xenon lights as standard, while the 618-litre boot is suitably large. You'll have to stare hard to notice the tweaked styling. Porsche says only the roof and doors remain untouched, with every other panel receiving a whole host of subtle modifications to keep the SUV looking desirable.
At the front, there's a larger bonnet with shut-lines that extend further down on to wings that have, in turn, had to be altered. There's also a more square-looking, but slightly smaller, grille to differentiate the Cayenne from the Macan. While the grille has shrunk, the pair of vents that flank it have grown to channel more air to the intercooler, and there are new headlamps each featuring four-LED daytime running lights.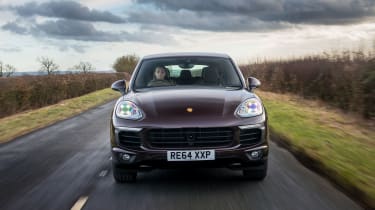 The tail-lights have a sleeker design, and there's a new rear bumper with integrated foglamps and newly designed exhaust pipes. Stare even more closely and you may even notice a different number plate recess, handle strip and spoiler. There are also two new colours and wheel designs.
In terms of sheer desirability, the pick of the diesel range has to be the 379bhp 4.2-litre V8 S Diesel, but that car's older, Euro V engine and £11,500 price premium means this 3.0-litre V6 diesel is still the pick of the bunch.