Hardcore 4.0-litre Porsche Cayman GT4 RS on the cards
Porsche insiders hint at more powerful Cayman GT4 RS, but not before 650bhp 911 GT2 and manual GT3 arrive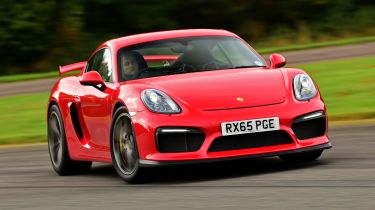 Porsche could add another 'RS' badged car to its range with the introduction of a new hardcore Cayman variant, and insiders have confirmed to Auto Express the possibility of a Cayman GT4 RS.
Porsche has admitted demand for the Cayman GT4 was beyond its expectations, so a new limited edition model to sit above it could make sense. While some rumours point towards it being called the Cayman GT4 R, our sources suggest it could be called the Cayman GT4 RS and will come with a 4.0-litre engine. More recent reports on the web pen that the car has already been leaked on social media by an Australian Porsche dealership.
Two other GT models will beat it into showrooms, though. Porsche's development driver and brand ambassador Walter Rohrl confirmed to Auto Express that the facelifted 911 GT3 will be offered with a six-speed manual gearbox, and is expected to be revealed at the Geneva Motor Show this March.
The engine capacity will also rise to 4.0 litres and its power output is said to be greater than the 911 R - that means in excess of 500bhp. Improvements in low end torque delivery are also promised thanks to internal revisions within the flat-six engine - Porsche's development testing will be exhaustive so as not to repeat the problematic introduction of the previous GT3, which was plagued with engine problems.
Porsche will also offer its most demanding customers an even more exciting model above the GT3 when it reveals its first 991-based GT2. The long-rumoured, iconic flagship will retain the rear-wheel drive of its predecessors, but a development of the current Turbo S's engine in the GT2 will see its output increased from 580bhp and 750Nm of torque to a figure around 650bhp.
Porsche has tested up to 700hp from the engine, but it's picked 650hp for reliability. Torque output is likely to remain around that of the Turbo S given the GT2's lack of all-wheel drive, while also ensuring the longevity of the transmission, which unlike the GT3, will switch from manual to seven-speed PDK automatic.
Already undergoing testing around the Nurburgring, the onset of winter has precluded Porsche's development drivers setting a lap time around the benchmark circuit. However, Porsche's internal calculations predict a 7 minute 5 second time. Given Porsche's official figures always quote an achievable, real-world number it's not unreasonable to expect in the right hands it could well be faster still.
The previous GT2 RS, based on the 997 series, six-speed manual model, had an official laptime of 7 minutes 18 seconds. The fact a Porsche engineer told us that the new 911 GTS, in its most extreme specification with ultra high performance, road legal Pirelli PZero Corsa tyres, could achieve a laptime of 7 minutes 22 seconds demonstrates how quickly the Carrera range has caught up with Porsche's most extreme performance versions, and the need for its most extreme models to widen the gap.