New Amazon Echo Auto review
The Amazon Echo Auto brings Alexa voice control to your car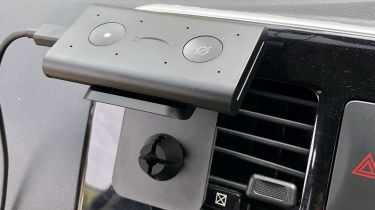 For those of us who find Amazon's Alexa voice assistant an essential tool to help organise our lives, the absence of it from the car has left a big hole. Now, at last, a version of Alexa is available, which is specifically designed for the car.
The Echo Auto has all the features of the system you might already use in your home, but it has been packed into a smaller unit. The Echo Auto measures just 85mm by 47mm, which is about the same size as a Penguin chocolate biscuit.
There are eight microphones across the top, which constantly listen for the 'Alexa' keyword to begin activation. Crucially, they can hear your voice over the noise created by the engine, music and even the air-con fans on full blast; this is all the more impressive because the gadget mounts on a bracket that wedges onto the air-vent slats.
The Echo is powered by a cable that links to a USB plug or an adaptor from a 12V socket. It then connects to the car via Bluetooth or a 3.5mm aux input. You'll need to use the Alexa app on your phone, too, so be aware that it will be using data.
The Echo allows you to check the weather, news and traffic, or to play streamed music services easily without taking your eyes off the road. The voice activation is noticeably better than Apple's Siri, too.
The only downsides are that it doesn't look pretty, and requires wires to be trailing across the dashboard. We also found it tricky to connect some apps to work with the system, especially if our phone was trying to connect to the car's own Bluetooth.
If you have an older car that doesn't have Bluetooth or voice activation, Echo Auto is a really useful addition to bring it up to modern standards of tech. But it doesn't seem to mix quite as well with the apps of the latest motors.