Renault-Nissan-Mitsubishi joins with Google to create new car infotainment systems
Global conglomerate Renault-Nissan-Mitsubishi has joined forces with the mighty Google to develop next-generation car infotainment setups.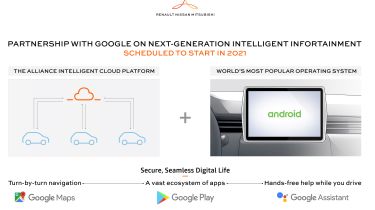 The Renault-Nissan-Mitsubishi Alliance has announced a tie-up with tech-giant Google to develop its next-generation intelligent infotainment systems – in a scheme that is scheduled for roll-out in cars from 2021.
The Android-based set-up will provide "intelligent infotainment and customer-focused applications across multiple models and brands". It'll incorporate navigation in the form of Google Maps, as well as access to a suite of third-party apps on the Google Play Store. Google Assistant will also feature, allowing users to control the car's functions via voice recognition.
• Apple CarPlay review and user guide
Each of the three automotive pillars will utilise the same basic system, re-skinned to offer a unique user interface. That means that while the operating structure will remain similar, the graphics, fonts and menu structure on a Renault may differ to those in a Nissan or Mitsubishi.
The systems will also feature Alliance Intelligent Cloud, offering secure connectivity and over-the-air updates. Renault-Nissan-Mitsubishi claims it will be one of the "most intelligent systems in the market". It also insists the set-up will remain compatible with other operating systems, such as Apple iOS.
Hadi Zablit, senior vice president of Business Development at Renault-Nissan-Mitsubishi, said: "Our partnership with Google will offer owners of our vehicles rich user experiences that are currently available only outside the vehicle.
• Android Auto: everything you need to know
"We are building powerful connected and seamless on-board/off-board experiences into our vehicles in addition to the features of Google applications and services that many users are accustomed to."
The announcement coincides with the first anniversary of the Alliance's 'mid-term' plan, which targets 14 million units (up from 10.6m in 2017) per year by the end of 2022. The plan involves the launch of 12 new zero-emissions vehicles.
Can the Alliance set the standard for in-car infotainment with Google's help? Let us know in the comments...