Renault to exclusively sell electric cars in Europe by 2030
Renault will stop selling internal combustion-engined cars in Europe by 2030, according to boss Luca de Meo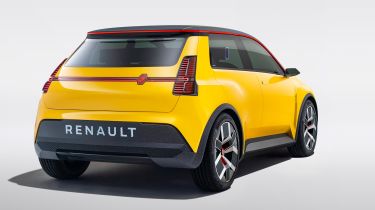 Renault is set to become an all-electric brand in Europe by 2030, following the likes of Fiat, Mercedes and Peugeot in their switch to EVs by the end of the decade.
Automotive News Europe quoted Renault CEO Luca de Meo as saying "Renault will be 100% electric in 2030 in Europe", bringing the company into line with the UK ban of petrol and diesel power in the same year.
The CEOs announcement means that we can expect electric versions of all Renault models to replace its existing ICE cars in the next eight years; these will join the upcoming Renault 4 crossover, reborn Renault 5 and recently announced Megane E-Tech in the brand's EV line-up.
The Renault Group has previously laid out a plan to launch 24 electric cars across all its brands by 2025. Seven of these new models will be Renaults, with performance sister brand Alpine releasing an electric A110 replacement, a faster version of the reborn Renault 5 and a coupe-SUV.
Elsewhere in the Renault Group, de Meo revealed that Dacia will become a fully electric manufacturer "at the last possible moment, in a way that respects the brand's value-for-money selling proposition," Automotive News Europe reports. Affordability is key for Dacia, so it plans to prolong its combustion-engined cars before investing in an EV strategy. This could mean that ICE-powered Dacia's will be sold after 2030, in markets where they haven't been outlawed.
Renault is one of several manufacturers planning to halt petrol and diesel car sales by 2030, alongside Fiat, Ford, Mercedes and Peugeot. Every new Alfa Romeo released from 2027 will be electric, too, while DS will exclusively launch EVs from as early as 2024.
Check out the latest on Renault's electric 5 electric car...