Renault Clio overtakes VW Golf to become Europe's best-selling car
European car registration figures for February 2020 reveal the new Renault Clio was the continent's best-selling car last month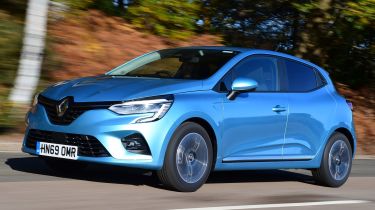 The Renault Clio overtook the Volkswagen Golf to become Europe's best-selling car in February 2020, according to the latest European car registration figures for the month.
New versions of both these models have recently launched, but the latest Clio has been available to order longer than the new Golf. As a result, some 24,914 Mk5 Clios were registered throughout February, while the Mk8 Golf was narrowly behind with 24,735.
Both nameplates saw an overall reduction in registrations last month, according to data from JATO Dynamics. There was a four per cent year-on-year reduction in Clio registrations, while the Golf was down 21 per cent year-on-year.
Other notable figures in the monthly figures include a10 per cent boost in sales for the Fiat Panda, bringing it up to fifth place, and the absence of any SUVs from the top 10 ranking.
Overall, it was another month of decline for the European car market. Registrations fell seven per cent year-on-year, from 1,143,852 in February 2019 to 1,063,264 in February 2020.
Electric car registrations doubled in France and Germany - these vehicles now make up 14 per cent and 11 per cent respectively of the countries' monthly car registration figures. The UK has an EV penetration rate of 13 per cent - the second-highest of the five largest European car markets - but even France's figure pales in comparison to Norway, where 75 per cent of all new cars sold are electric.
Felipe Munoz, global analyst at JATO Dynamics, commented: "The situation is rapidly deteriorating in Europe due to complex regulation, lack of available homologated cars, and increasing pressure on the economy. All of these factors are having a detrimental impact on consumer confidence."
JATO Dynamics added that the impact of the coronavirus pandemic has yet to hit the European car market.