Renault Clio Expression review
Does the most basic model in the Renault Clio range stack up as a value small car?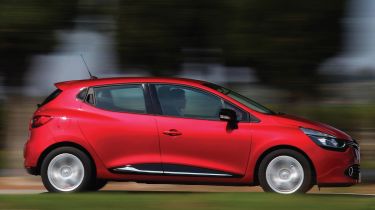 Propping up the Renault Clio range, the Clio Expression cuts back on the standard equipment to keep the price manageable. The interior lacks some essential kit and feels a bit spartan, but practicality is strong and you wouldn't necessarily know this is the basic model by looking at it from the outside. There are better budget superminis out there but secure a decent discount and the Clio Expression is worth a look.
The Renault Clio is available with a whole host of big-car gizmos and comfort features that impress in a supermini - but you have to pay a premium for them. Those who just want functional equipment from their small car will be drawn to the cheapest Renault Clio Expression model. But is it value for money?
In terms of styling, you'll be able to tell entry-level Clio Expression models apart for their lack of alloy wheels, spoilers or sporty trim of any sort. Happily, the latest Clio is a good-looking car regardless of racy add-ons, so you won't feel too short changed there. 
In the cabin the Expression spec seems initially to be reasonably well-equipped, with keyless entry, Bluetooth, electric heated door mirrors and even 'coming-home' headlights. But a glaring and strange omissions is the lack of any air-conditioning whatsover, almost unforgiveable in a modern supermini.
For only a few hundred pounds more than the Clio Expression you can have a five-door Design-spec Vauxhall Corsa 1.2, which gets all the kit the Clio has as well as air-con, cruise control, a leather multifunction wheel and a touchscreen infotainment system. But the Clio counters with more practical touches such as split-folding rear seats.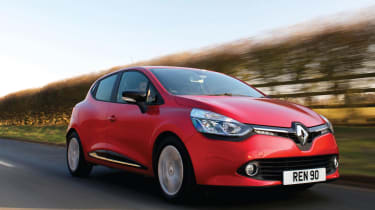 At least the interior design of Renault's supermini has plenty of flair and an easy-to-fathom, minimalist design. But without the standard touchscreen available on all other trims, it feels bare and a touch old-fashioned. Access is easy with the five-door only layout, but the Clio is not the most spacious supermini in the class.
The Clio range features six trim levels (including the hot Renaultsport model), and five petrol and diesel engines, but  Expression trim is only available with the naturally-aspirated 1.2-litre petrol unit. You'll have to make do with just 75bhp and 51mpg combined, while CO2 emissions are poor at 127g/km.
Spec up a bit to Expression+, however, and you get the choice of the quicker turbocharged TCe petrol engine, capable of 63mpg, and the 1.5DCi diesel which claims an impressive 88mpg. 
The Clio is quick and accurate to place on the road thanks to a reduced kerbweight over the old car, but the ride isn't the smoothest and body roll is noticeable. It's a refined and comfortable cruiser, but the Clio doesn't provide an engaging drive like the Ford Fiesta does.
Renault has taken a hit in recent years, and doesn't have the best reliability reputation. However, for 2014, Renault has made its way back up the manufacturer rankings, placing in 15th place out of 33.The Clio also ranks at a respectable 38th position out of 150 cars, compared with a disappointing 108th position in 2013. 
In terms of safety, the new Clio continues Renault's impressive record, and has a full five-star Euro NCAP rating.