Specialist Renaultsport dealers for Clio and Megane RS
New Renaultsport network will have full RS range for customers to try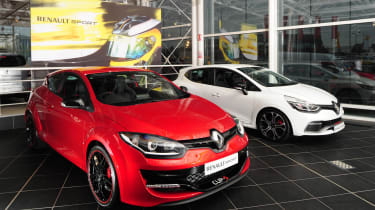 Renault has launched a specialist dealer network for its Renaultsport performance cars. All models of the Renaultsport Clio and Megane will be sold by these 26 dealers around the country, although they will still be available to order through any Renault dealer in the UK.
The aim is to provide a tailored experience for the buyer, with dedicated sales staff, dedicated Renaultsport areas in the dealership and a full range of cars to test drive. Buyers will have a single point of contact at the dealer for the duration of their ownership.
The range of cars available at the new dealers includes the recently-launched Renaultsport Clio 220 Trophy and Renaultsport Megane 275 Cup-S.
Darren Payne, Renault's sales director, said: "Renaultsport customers have very specific requirements and as our product offering becomes more specialised and technologically advanced, we are delighted, through the new Renault Specialist dealer network, to provide them with a highly-focused facility that mirrors their passion for the brand. The specialist network will offer customers the solution to their requirements, whether it's a query about a model's specification, arranging a test drive, purchasing a vehicle or having their existing car expertly cared for.
"The new development underlines our commitment to innovation and driving dynamics and the importance of Renaultsport to Renault Group UK, the increasing popularity of the brand and its products being a significant factor in helping us to meet our targets for sustainable growth."
You can visit the Renaultsport website to find out if there's a dealer near you.
Now read our in-depth review of the Renault Clio RS.