Laurent Hurgon on his Renaultsport Megane Nurburgring record
We speak to the driver responsible for the record-breaking lap of the Nurburgring in Renaultsport's Megane 275 Trophy-R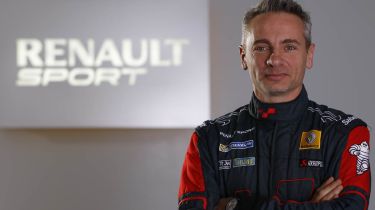 Renault's Renaultsport Megane 275 Trophy-R, has claimed the front-wheel-drive Nurburgring lap record with a time of 7 minutes, 54.36 seconds, beating the previous record held by the SEAT Leon Cupra – by 4.04 seconds. We interview the man behind the wheel for the record-breaking lap, Renault test driver Laurent Hurgon...
Why is the Trophy-R 14 seconds per lap faster than the 265 Trophy in 2011?
"The big different is the tyres, plus the shocks and dampers from Ohlins are very good too. It gives you full adjustability of the car so if you want understeer or oversteer you can have it. Personally I adjusted it for a very neutral feel in the corners, but really it's the tyres, dampers and the weight savings that make the big difference."
Do you think you could go any faster in the Trophy-R?
"I think as a driver there's always places you can go quicker, there were slippery patches out on the track, but I think it was a very good lap. You can always be better, but then you can always be worse. On the Nordschleife though there is no limit, if you have more power you can definitely set a faster time. But for every 5kph faster you go each curve is not the same and you might need to change the whole setup of the car."
Honda has said it wants to steal the front-wheel drive lap record with the new Type R, have you seen it testing on the track?
"Yes I have seen it on the track – we have industry pool days where everybody brings their cars to test. I can't say how fast they are compared to us but I hope they can go faster, then hopefully Renaultsport can do something more to try and beat them again."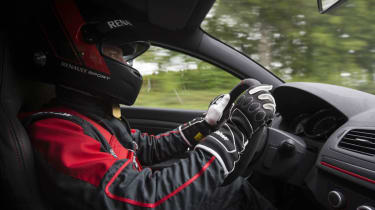 It must feel good to steal the record back from the SEAT Leon Cupra so soon after they posted it?
"It is just a coincidence about the timing of SEAT's record lap. We've been working on this programme for a year and a half – we were definitely surprised about the SEAT time attack. But something like this is good for team spirit."
What advice would you give to someone who hasn't driven the Nurburgring, but wants to come and give it a go?
"Take it slowly to begin with – there are so many blind curves that could go left or right – and it's better to do a lap with someone who know the track first. If a formula one driver came here for the first time he would probably be 30 or 40 seconds slower than me, because it's all about getting to know the corners."   
Find out more about the fastest Nurburgring lap times here. And get the full story on Renault's new FWD lap record.