Renault Twingo RS hot hatch spied
Forthcoming Twingo looks set to get the Renaultsport treatment, including revised three-cylinder turbo engine
A Renaultsport-tuned version of the forthcoming third-generation Renault Twingo could be on the cards, that's if these latest spy shots are anything to go by.
Caught testing by our photographers in southern Spain, the undisguised city car might easily pass unnoticed, were it not for some minor but revealing modifications.
Most noticeable from the front is an interesting vent that cuts into the grille and Renault badge, possibly part of a sophisticated cooling system for the rear-engined, rear-wheel drive Twingo.
Aside from a slightly lower ride height, the only other obvious giveaway is the revised rear bumper that now features a bulky-looking dual exhaust set-up.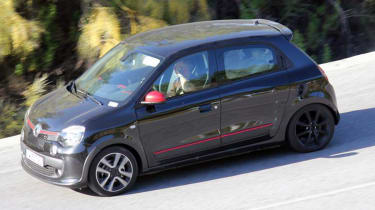 Expect these modifications to give way to a more streamlined layout should the Twingo RS enter production, plus there'll be improved brakes and tuned steering for better handling.
Power will likely come from a more powerful version of the 900cc turbocharged three-cylinder engine that should make its way into regular Twingos.
In its most basic form, as currently found in the Clio, this TCe unit produces 89bhp and 135Nm of torque, but its output should rise significantly once engineers at the Renaultsport factory in Dieppe have got their hands on it.
Given the standard Twingo hasn't yet reached UK showrooms though, it's unlikely the RS model will arrive until next year. We'll keep you posted as more information comes to light.
Does the idea of a Renaultsport Twingo float your boat? How will it do against the other city car based hot hatches? Tell us in the comments section below...