Renault plug-in hybrid for 2014
Renault is working on a Clio-sized 141mpg plug-in hybrid for 2014 Geneva show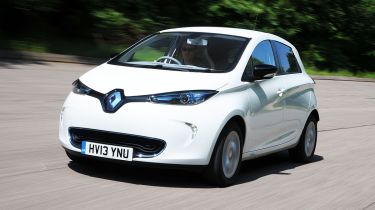 Renault is working on a 141mpg concept car, which will be shown at some point next year, according to Renault head of research, advanced studies and materials Remi Bastien.
Bastien outlined to Auto Express that Renault is "investigating petrol plug-in hybrid power" for the prototype '2l/100km' vehicle, which will likely make its debut at the 2014 Geneva Motor Show.
Unlike other super-eco cars such as the Volkswagen XL1 – predicted to cost close to £100,000 in the UK – Bastien says, "an eventual production version of the car would be affordable. It will be a B-segment car with Clio-type features in terms of space and comfort.
"The main thrust of our research and development budget is spent on improving emissions – with our electric vehicle strategy with the Zoe EV, we're perfectly placed to develop hybrid systems."
Alongside this petrol-electric prototype, Renault is still forging ahead with zero-emissions research projects to further improve practicality and range. And despite a focus on reducing weight in its vehicles with traditional combustion engines, Bastien believes this philosophy is not necessarily the best approach for electric cars:
"Reducing weight is important for petrol and diesel cars, but less so for EVs – aerodynamics is more important for efficiency in electric vehicles. Weight can be used to help regenerative braking in an EV to harvest more kinetic energy when slowing down.
"I think the main reason BMW uses lightweight carbon fibre on the BMW i3, for example, is because of performance, because of what the brand stands for – not necessarily for efficiency."
Aside from improving range, Renault's other main focus is on reducing costs for the consumer – another reason why expensive carbon fibre won't feature on its production cars in the near future.
Bastien believes the industry is only at 50% in terms of exploration of battery technology, and that further development will improve range, outlining, "by 2020 the range of an EV like the Zoe will double to around 250 miles."