Latest on Rolls-Royce SUV
Auto Express speaks to Rolls-Royce's design director at the Geneva Motor Show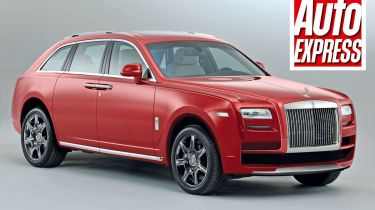 The Rolls Royce SUV hinted at by CEO Torsten Müller-Ötvös late last year is still very much in the early stages of development. At Geneva, we spoke to Design Director Giles Taylor about the potential for a Rolls off-roader. He told us: "If you ask me, 'Am I sketching an SUV or SUV-type car?' ... Yes. But as for anything further on than that, it's too soon to say."
The trick to getting the SUV right will be transferring the classic Rolls-Royce proportions into a higher-riding form. And while Taylor and his design team feel up to the challenge, Taylor adds that an SUV with similar proportions to a Range Rover might not be the right direction for the brand.
Instead, he confirmed that Rolls plan for the mid-term is to consolidate its current, strong position in the GKL++ market (cars that cost above £200,000.)
"We're not chasing volumes, like some others. We're in a really strong, very profitable position now and we want to ensure that the exclusivity demanded by our customers is maintained."
"So while I'm sketching a number of different types of bodystyles, including finalising the look of the next Phantom, we're more into developing the bespoke side of our business."
A Rolls' spokesman confirmed that, "with Phantom it's almost a hundred per cent of customers who order something bespoke. And even with Ghost it's around 80 per cent, which is way higher than we predicted."
The updated Ghost, which debuted in Geneva, shows how the focus is on bespoke ordering for the firm. The new seats, for example, feature more leather sections, and each of these can be had in a different colour should the customer wish.