'The Phantom has been a success, so why change a winning formula?'
Carmakers won't abandon popular designs even if new models are anti-climactic, argues Graham Hope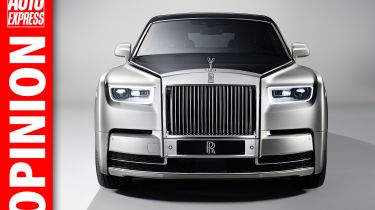 One of the great privileges about this job is the opportunity to see new cars – or pictures of new cars – before they are presented to the wider world. The anticipation is always tangible as we open the images on our laptops and cast our eyes over the first official shots of an all-new model.
We had one of those moments this week, as the team huddled around a computer to check out the new Rolls-Royce Phantom. And the reaction as that first image opened up before our eyes? "Oh."
Because, let's be honest here, it looks rather a lot like the last one, doesn't it? It's not the first time this has happened recently; the BMW 5 Series and Audi Q5 didn't exactly reinvent the wheel, either.
Explaining Rolls-Royce's position, designer Alex Innes admitted: "It's similar to the old car in terms of lineage. We wanted the new car to be unmistakably 'Phantom' but modernise it."
And you know what? I get that. The Phantom has been a big success for Rolls, so why mess with a winning formula? In many ways, creating a car that needs so little done to it in terms of a design update is mission accomplished for car companies. Customers will buy it regardless of how it looks (and what this impoverished commentator thinks).
So the rationale is understandable, and I acknowledge the Phantom is everything you expect a Rolls to be. But as car fans above all else, there's always that little sense of anti-climax here in the Auto Express office when companies prove so restrained in updating their new models.  
On a slightly separate theme, and again speaking as a petrolhead, I was rather bemused at some of the hysterical headlines in the mainstream press that accompanied last week's announcement of a petrol and diesel 'ban' in the United Kingdom by 2040. We bring you the real story here.
Do you disagree with Graham? Let us know in the comments section below.