"The new VW Group is letting its other brands shine"
SEAT's position as a technology leader wouldn't have happened under previous VW management, says Steve Fowler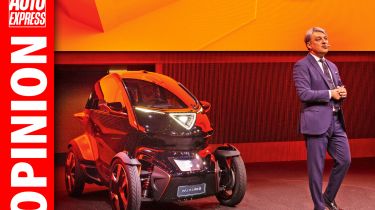 A few years ago I had a chance to put one question to Ferdinand Piech, then chairman of the Volkswagen Group Supervisory board. I asked him what the best car in the world was. With everything from the Skoda Citigo to the Bugatti Chiron to choose from in his group, he picked the Volkswagen Golf.
That gave a real insight to the group; the Volkswagen brand, it seemed, always had to shine brightest. It also explained why a Skoda, for example, could never quite match a Volkswagen when it came down to small but important things like quality of switchgear.
• Latest news from Geneva Motor Show
Now, the people at the top of the group have changed, along with its outlook. Which is why SEAT is leading the group's research and development into connectivity and micro mobility – meaning journeys less than six miles long, which apparently make up 60 per cent of all trips.
SEAT's new position as the group's tech leader was highlighted at this year's Mobile World Congress, held last week in Barcelona, the brand's home city, where I caught up with its charismatic boss Luca de Meo.
As well as launching the equally charismatic SEAT Minimo two-seater urban runaround, de Meo told me how SEAT will be the second brand in the group to use the new all-electric MEB platform with the el-Born unveiled at this week's Geneva Motor Show. "We're no longer late followers," he said. "And when we get the ingredients we cook very well."
De Meo used MWC to announce partnerships with IBM and Telefonica to use artificial intelligence to advise on the best transport solutions for you, with super-fast 5G to handle the greater connectivity needs. "Connectivity is our thing," de Meo explained. "It's going to be like the move from the iPod to the iPhone."
Who'd have thought humble SEAT would become a technology leader? That might not have happened in a Volkswagen under previous management.
What do you think of SEAT's position within the VW Group? Let us know your thoughts in the comments...