New SEAT SUV confirmed for 2016
SEAT confirms Leon-based SUV for 2016 launch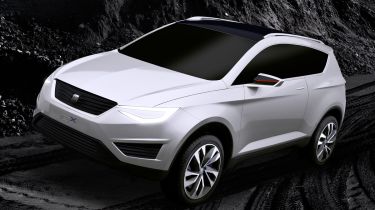 After years of hints and several different concepts SEAT has confirmed that it will build a new SUV, based on the same MQB platform as the successful Leon.
With crossovers and 4x4s becoming even more popular SEAT is keen to join the party and match Skoda's sales success with the Yeti. Due to arrive in showrooms in 2016 with a range of four-cylinder petrol and diesel engines, the new SUV is already under development at the brand's R&D facility down in Martorell, Spain.
Auto Express attended a preview event last year where we saw an early design model of the new SUV – which is similar in size to the Nissan Qashqai – and the styling has been inspired by the sporty Leon FR hatch.
To give it a tougher stance the model featured flatter wheel arches, silver roof rails and plastic body cladding and intricate LED headlights similar to the Leon. Its currently still called the 'Tribu' after the first concept, but a company source told us that the production car would get a completely new name.
SEAT SUV: "a big push for the brand"
Vice President for R&D Matthias Raab told us that the SUV "would be a big push for the brand" towards maintaining profitability, and that it was part of the plan to focus on key volume segments rather than developing too many niche models.
Raab also told us that this new model was "the final pillar of the SEAT brand" and would feature both front and four-wheel drive options and both manual and auto gearboxes – just like the other models on the lightweight MQB platform.
We could see a concept version as early as Geneva next year, with a production reveal likely to appear at the Frankfurt show in 2015 – but a spokesperson for the brand remained tight-lipped about the exact launch date for the car.