"How good could Skoda be if VW left it to its own devices?"
Editor-in-chief Steve Fowler ponders the potential of the Czech brand without VW Group pressures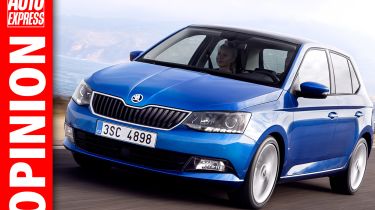 I've been fascinated by Skoda ever since I went to the launch of the Felicia back in 1994. That was the last car to use Skoda's own platform and the first to benefit from VW's expertise before a full takeover of the Czech brand. It was a well built, no-nonsense budget car, and all the better for it.
In 2000, with VW in full control, the new Fabia became the first car I made Car of the Year as editor of a car mag – so it's a car I remember fondly, not least because it still looks so fresh today. The less said about the second-generation car the better, but now with the mark three, the Fabia is back on form.
There's no doubt that this new car is very good indeed, but not quite great. There are two things stopping it from being the class best.
Well, three if you count Skoda's bosses at VW. My biggest criticism regards the interior quality. Sure it looks okay – not the most exciting interior I've ever sat in, but smart and functional as a Skoda should be. However, there's not a soft-touch plastic to be seen (or felt).
That wouldn't be so bad if Skoda hadn't hiked the prices so a Fabia isn't that far off the cost of an equivalent Polo. Yes, the new car gets more kit, but Skoda is no longer the budget choice it used to be, although in parts it still feels a bit downmarket. Shame.
Perhaps most telling was a conversation I had with one senior Skoda exec about the lack of quality inside the new Fabia. The resigned smile and shrug of the shoulders said as much as his comment: "We have to have some differentiation between ourselves and Volkswagen." It made me wonder what the Czech guys would really like to do with their brand if they were given free rein...
Should VW leave Skoda alone? Let us know what you think in the comments below, on Twitter or on Facebook.