New 1.5 TSI engine joins Skoda Octavia petrol range
Skoda has added the VW Group's new 148bhp 1.5-litre TSI engine to its Octavia line-up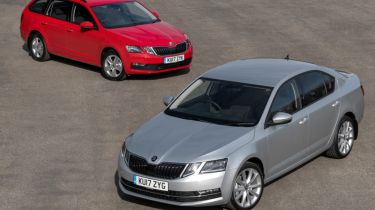 Due to high demand for petrol engines, Skoda has announced that a new 1.5-litre 148bhp TSI unit is available to order now with new Skoda Octavia models. The engine, which is also shared with other members of the Volkswagen family such as the new Golf, offers improved efficiency and is available in the Octavia priced from under £20,000.
The 1.5 TSI will be available with both the Octavia's hatch and estate bodystyles, provided they are ordered in SE, SE Technology, or SE L trim levels. The entry level S versions are not currently available with the engine.
Skoda is claiming the 1.5 is a 'substantially updated version' of the Octavias' old 1.4 TSI. Changes include the addition of Active Cylinder Management or ACT as it is more commonly known. This is the first time ACT has been available with the Octavia, and it offers drivers improved economy by shutting down two of the engine's cylinders in periods of low torque demand between 1,400 and 4,000rpm. Once more, the activation and deactivation is stated to have no effect on the smooth running of the engine, as it can take as little as 13 milliseconds to start and stop.
Comparing the headline figures, initially suggests that aside from ACT, not a lot appears to have changed from the old 1.4-litre unit. Max power is, as mentioned above, 148bhp - the same as the older engine. Max torque is also identical at 250Nm, and is available from the exact same point in the rev range – 1,500 to 3,500 rpm.
However, that is where the similarities start to end, and vital differences start to appear. Comparing the Octavia in manual Hatch SE form, it is apparent that economy and emissions have been improved. The combined economy has risen from 54.3mpg to 57.7mpg, and CO2 emissions are down from 121g/km to 113g/km. Sadly, the 0-62mph time has not fallen, and instead increases by 0.1 seconds to 8.2 seconds.
For those who prefer giving their left foot more down time, Skoda is offering a seven-speed automatic DSG gearbox, which replaces the six-speed DSG found in the old 1.4.
Finally, prices start at £19,830 for the 1.5 TSI SE Hatch, which shows the new engine carries a £300 premium over an equivalent 1.4 TSI. The prices top out at £24,315 for the auto SE L Estate model, again carrying a £300 premium over the same model fitted with the older engine.
What do you think of cylinder deactivation technology? Let us know in the comments below...