New 2023 Skoda Octavia facelift: specs, prices and release date
Skoda is testing out its updated Octavia in hatchback and estate guises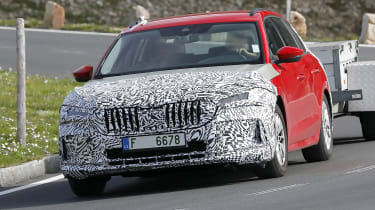 1/6
The Skoda Octavia is one of our favourite cars. We like the current one so much we even gave it our coveted Car of the Year award in 2020, but Skoda isn't resting on its laurels because a facelifted Octavia is due to launch later in 2023. 
A refreshed Octavia is expected to be unveiled later this year and we've already caught it testing in both hatchback and estate body styles.
From our spy shots we can see the fourth-generation Octavia will keep plenty of the outgoing car's styling. The hatchback model we've spied looks like a higher specification than the estate and we can see a different lower grille with side air intakes in the same vein as the hot vRS models. 
The sportier vRS will feature larger alloy wheels, red brake calipers and black door mirrors. The rear is entirely covered by camouflage but it looks like it will have new rear lights, and a revised rear bumper and spoiler. 
The estate model features a new front bumper and headlight design as well as smaller alloy wheels and body-coloured door mirrors. There's more camouflage to the rear, but with a simpler rear bumper design to the hatch. 
Skoda Octavia platform and engines
Underpinning the new Skoda Octavia will be the same MQB Evo platform as the current car, so we can expect the same range of powertrains to feature. Kicking off will be the 108bhp, 1.0-litre petrol three-cylinder engine, then the 1.0-litre mild-hybrid version of that unit which will come with a seven-speed DSG automatic transmission. Above those there's the 1.5-litre TSI petrol with 148bhp, which is also available as a mild hybrid. 
Skoda is likely to retain the selection of 2.0-litre turbocharged diesel powertrains, made up of 114bhp, 148bhp and 197bhp versions. Then there's the 2.0-litre petrol engine and the 1.4-litre petrol with plug-in hybrid technology – both come with 242bhp. Four-wheel drive should again be available on some of the more powerful models. 
We expect the Octavia will update its infotainment system, made up of a central 10-inch touchscreen set-up with sat-nav, Android Auto and wireless Apple CarPlay and a 10-inch driver's display screen. The system itself will borrow plenty from the Volkswagen Golf - which itself received an infotainment upgrade in 2022.
The facelifted Octavia should be fully revealed later this year. Pricing is yet to be announced but there's likely to be a small increase on the current model's £24,540 starting price.
Check out more Skoda news and reviews here...