Skoda Octavia Coupe set for Geneva show
A new Skoda Octavia Coupe is set to be revealed at the 2014 Geneva Motor Show and will be a rival for the VW CC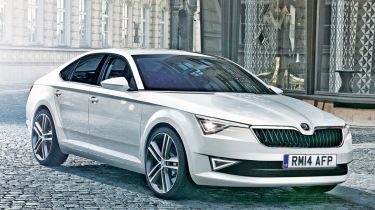 A Skoda Octavia Coupe is set to be revealed in concept form at March's Geneva Motor Show, and will give Skoda a rival to the Passat-based VW CC, as well as a dose of genuine desirability.
Our exclusive image shows how the Octavia's conservative styling will be reinterpreted into something much sharper. Triangular LED headlights are echoed in the foglights, while a bolder crease runs the length of the car's shoulderline.
Based on the same MQB platform as the Octavia, with the same 2,686mm wheelbase, the Coupe will get a more steeply raked windscreen and a lower roofline that flows smoothly into the rear end.
Although the sleeker profile will have an unavoidable impact on headroom, boot space won't be far behind the standard car's, at around 1,500 litres with the rear seats down. That's still greater than larger, more premium four-door coupes like the BMW 6 Series Gran Coupe and Mercedes CLS.
Skoda knows a three-door coupe version of the Octavia would have been more striking, but practicality is key for its buyers, and this configuration delivers the best of both worlds.
The addition of a rakish four-door coupe shouldn't come as a surprise – Skoda has been placing ever more emphasis on design in recent years.
The awkward-looking Roomster, for example, will be axed at the end of its lifecycle, while the Rapid Spaceback has a smaller boot than the standard Rapid, but is designed to entice younger, more fashion-conscious buyers with its rounded hatchback shape and range of personalisation options.
Skoda has also set itself ambitious sales targets, with expansion of the current six-model line-up to around eight or nine a priority. The VW Group wants to become the world's largest manufacturer by 2018, and has tasked Skoda with shifting 1.5 million models a year by then.
With record sales of 939,200 in 2012, and 2013 set to surpass one million, Skoda has five years to boost sales by 50 per cent. Key to that is increasing the brand's manufacturing capacity in China – already its number one market. Two new factories are being built, with the aim of selling 500,000 cars per year in China – up from 235,700 in 2012.
The seven-seat 'Snowman' SUV, due in early 2016, is crucial for expansion in China and Russia and increasing market share in Europe, while a more stylish four-door coupe like this should also have global appeal.
A vRS model is a certainty and likely to mirror the Octavia with a choice of 218bhp 2.0 TSI or 181bhp 2.0 TDI engines, and either a six-speed manual or six-speed DSG gearbox. Further down the range, 1.2 and 1.4 TSI petrol engines, as well as 1.6 TDI and lower-powered 2.0 TDI diesels will also be offered.
To cement its status as the raciest member of the Octavia family, the suspension is expected to get lowered for sportier handling, with the 
vRS models sitting a further 12mm closer to the Tarmac.
With the space on offer and a starting price expected to only slightly exceed the Octavia's £16,000 entry-point, the model should provide proof that Skoda's core philosophy of value can apply to stylish coupes, too.