Skoda Vision C concept shows the brand's sporty side
Skoda signals newfound sporting intent with the sleek VisionC concept car at Geneva Motor Show 2014
Skoda's recent sales success has largely been founded on sensible virtues but things could be about to get sporty, if the new Skoda VisionC concept is anything to go by. We've been shown the green machine at the 2014 Geneva Motor Show and the car's sharply sculpted lines are a sight to behold.
The Skoda VisionC concept previews a new five-door hatchback coupe that's due to enter the Skoda line-up by 2016 to rival the Mercedes CLA.
Destined to slot into the Skoda range between the popular Octavia and Superb models, the VisionC is based on the Volkswagen Group's increasingly ubiquitous MQB platform, which also underpins the Octavia as well as the Volkswagen Golf and SEAT Leon.
• Geneva Motor Show 2014: live
Among the stand out design features of the VisionC exterior is the razor-sharp swage line connecting the triangular-themed light clusters at the nose and tail. The long, flowing roofline of the car ends at the pinched rear that echoes the looks of recent Audi's four-door coupes - the A7 and A5 Sportback.
The VisionC is powered by an advanced 1.4-litre direct-injection petrol engine that can also run on natural gas. Computer data on this cutting-edge new unit indicates that combined cycle fuel economy equivalent to 72mpg would be possible while in natural gas mode. CO2 emissions would be in the region of 91g/km.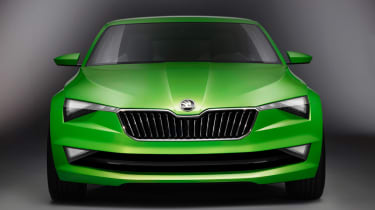 The eventual production version of the new Skoda will be powered by a more traditional engine range of petrol and diesel units with capacities between 1.4 and 2.0 litres. But the car will get an all-wheel-drive transmission fitted as standard. A vRS version with 2.0-litre turbo power and around 280hp would provide the new flagship model in the Skoda range.
Skoda VisionC: design playing more important role for Skoda
"The design of Skoda cars is playing an ever more important role and shows the brand's emotional vibrancy and power," an official statement said. "Skoda's design is becoming more expressive, dynamic and emotional."
The VW Group wants to become the world's largest manufacturer by 2018, and has set Skoda ambitious sales targets of 1.5 million models a year by then - a fifty per cent increase on 2013. A seven-seat SUV, due in 2016, and a stylish four-door like this are crucial for broadening the brand's global appeal.