Skoda Octavia GreenLine review
Skoda Octavia GreenLine promises 88mpg, but demands a few compromises
The Skoda Octavia GreenLine isn't particularly exciting to look at, or drive, but if your priorities are value for money, interior space and low running costs, it's hard to fault. The dynamics are just as polished as the standard car's, as is the interior, while fuel economy shows the outer edges of what's possible in a combustion-engined car. It represents everything Skoda stands for, which makes it the pick of the range.
If there's one thing you expect from a new Skoda GreenLine model, it's a big improvement in running costs. But along with impressive gains in economy and CO2 emissions, the new Octavia GreenLine promises more power and a step up in performance, too.
It uses the same 1.6-litre diesel engine you'll find in other versions of the Skoda Octavia, but with an extra 5bhp, which takes the total to 109bhp – plus there's a six-speed manual gearbox in place of the standard five-speed.
It's enough to knock one-tenth-of-a-second off the 0-62mph time, but more importantly, the headline figures are 88.3mpg and 85g/km of CO2, matching the VW Golf BlueMotion as the most economical non-hybrid car in its class. Being a Skoda, though, it's also a lot more spacious and cheaper.
Fitting an extra ratio in the gearbox and adding fuel-saving technology such as stop-start, low-rolling-resistance tyres and brake energy regeneration has enabled Skoda to dramatically improve efficiency over the 74.3mpg and 99g/km 1.6 TDI standard model on which it's based.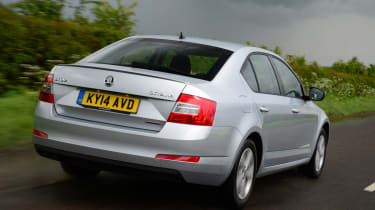 The newcomer also obliterates the previous Octavia GreenLine's claims of 64.2mpg and 114g/km of CO2. As a result, it's exempt from tax, plus has some of the cheapest company car costs of any diesel, with a 14 per cent Benefit in Kind rate.
Given such phenomenal economy, you might imagine that the driving experience has become a bit rough around the edges, but that's not the case. Okay, so the engine can feel a bit sluggish when you let the revs drop, but when you get going it provides decent shove, without too much rattle from under the bonnet. The steering is light and precise, the manual gearshift has a well oiled action and the tyres offer lots of grip in corners, despite their slightly harder compound rubber.
If we have one complaint, it's that the ride doesn't feel as cosseting as a Golf's. Show the GreenLine a relatively smooth surface and it will waft along with little fuss, but hit a bump and less sound deadening means you not only feel the jolt, but hear it too. The interior is simple, and only available in black, but the fit and finish is excellent.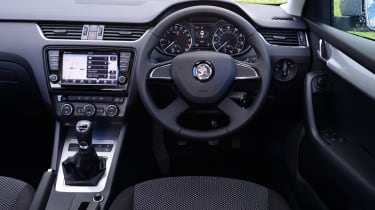 All models come with a responsive 5.8-inch colour touchscreen, climate control, Bluetooth and rear parking sensors, but sat-nav is on the options list. It's £550 for the most basic set-up or £1,350 for the Columbus system, with a bigger eight-inch screen.
The amount of passenger and luggage space is second to none. A 590-litre boot is in a different league to the Golf's 380 litres, and it expands to 1,580 litres with the seats down – just 40 litres behind the Golf Estate.