New Skoda Roomster confirmed
The will-they, won't-they saga surrounding the new Skoda Roomster is settled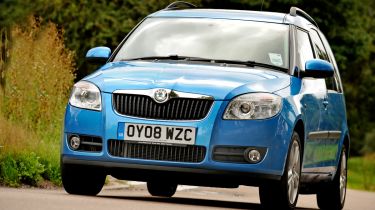 Contrary to previous reports, a new Skoda Roomster is back on the cards. The Czech company has revealed that the quirky small family machine will definitely be replaced, but it isn't sure when.
But the company is sure the current Roomster's signature massive rear-seat windows will be retained in the second generation, even if they make the designer's job more or less impossible.
Product marketing head Stephanie Labussier-Metz admitted there were still plenty of questions she had to answer over the next Roomster.
"There is a new Roomster coming, but how and in what shape is not decided yet," she admitted. "It's not decided whether we should make it longer or wider or taller, or long enough to have seven seats. These are things we are still figuring out. But the big window is a must as far as we are concerned."
The confusion about the Roomster's replacement boils down to two basic issues, Skoda insiders said. The first is that Skoda's resources are being concentrated to deliver a new, larger SUV by the end of 2016, the second is the debate over what size of the Volkswagen Group's MQB architecture to use, with both an extended Fabia and an Octavia in the mix. The current car uses the same underbody architecture as the Volkswagen Golf IV and the last Octavia.
Unknown to most, the ungainly, large windows were designed to give a view to children belted into protective seats and capsules in the rear seat.
"That's why it drops down so much further than the front seats. It's so the children can see more things outside and can be more stimulated and involved," Labussier-Metz said. "The parents who use the Roomster tell us they love the big window, so that's not up for negotiation."
Now read our in-depth review of the new Skoda Fabia...