Smart SUV still under consideration
Smart bosses reaffirm plans for a small SUV, providing it stays true to the brand's city-focused values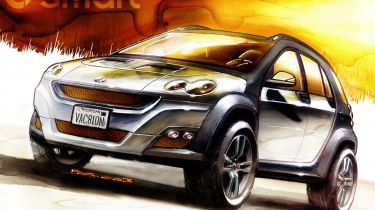 Last year, we uncovered plans for a radical new Smart SUV, and it appears there's still life in the rumours yet. The Mercedes owned city car company previously revealed plans to launch an SUV-style vehicle more than 10 years ago, but the project was canned in 2005.
Speaking at the launch of the new Smart Brabus, Daimler product manager Katharina Beck told Auto Express: "Our philosophy is to provide urban agility and comfort in the city. These features leave room for different interpretations.
"Of course, on one hand you need the small turning circle. But if there are different solutions and different requirements from urban drivers then we are always open for new things."
We asked if this meant the potential for a Smart-badged SUV and Beck said: "Never say never. Let's see what the future brings."
Last year, at the the Shanghai Motor Show, head of Mercedes-Benz Cars Dr. Dieter Zetsche said that the German giant is eyeing up the possibility of expanding into the fashionable sector. 
"There are certain limitations to this very convincing, technical concept which allows you to have a very compact vehicle for the range expansion," he said. "But if we were to go for any expansion with the Smart family, then the SUV segment would definitely be one to go into."
Given the increasing demand and market trends for small crossovers and SUVs, it seems a logical next step for Smart. Back in 2012 the brand previewed its new ForTwo and ForFour models with the bulked-up ForStars concept car – and it is this model that we expect to see in showrooms before the end of the decade.
"I think we definitely have to think outside the box with a broad view," she said. "There are a lot of opportunities and we have to take them as they come. We always keep our eyes open."
Whatever is decided, it is certain that the car will remain as practical and easy to drive in town as the existing range of ForTwo and ForFour models. The focus will not be on cabin space or luggage capacity, but instead on functionality and fitness for purpose in the urban environment.
It'll likely be offered with the same range of three-cylinder turbo and non-turbo engines, based on the same rear-drive platform. There's a chance it'll be available as an all-electric model, too, given its city-centric nature.
"We are attacking the electric drive segment because nothing fits better than electric cars and the city," Beck told us. "With all the regulations that are becoming more and more strict, it's a perfect combination."
Should the car make production, it's likely to command a premium of at least £2,000 over the entry-level ForFour. That means a basic model in Passion spec would cost just under £14,000 – right in the firing line of the popular Nissan Juke.
What do you think to the idea of a tiny Smart SUV? Let us know in the comments below...