Tesla updates Model S and X with big acceleration boosts
Entry level versions of Tesla's Model S saloon now go from 0-60mph 1.3 seconds faster than before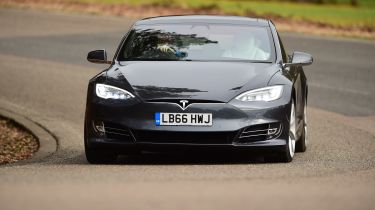 Tesla has quietly updated both the Model S saloon and Model X SUV, meaning both cars now accelerate substantially faster than before.
It's understood that Tesla has upgraded the hardware underpinning both cars, meaning that the new performance figures will apply only to brand new models being manufactured right now – older cars won't receive a software update unlocking the extra shove.
• Best electric cars on sale 2017
Improved acceleration is the only change too. Neither the Model S nor X, nor indeed the 75kWh or 100kWh versions of both cars pack additional range. Despite the changes, prices stay the same, meaning a starting price of £61,500 for the Model S and £68,400 for the Model X.
The basic Model S 75 gets a hefty performance boost – Tesla says that it'll do 0-60mph 1.3 seconds faster than before, doing the dash in a claimed 4.3 seconds. That makes it one-tenth of a second faster to 60mph than the now discontinued dual-motor 85D model. The 75D finds an extra second, and does 0-60mph in 4.2 seconds.
Further up the range, improvements are much finer. The 100D is only a tenth of a second faster, with its new 0-60mph time being 4.1 seconds. The range-topping P100D keeps its performance figures.
As for the Model X, the 75D now does 0-60mph in 4.9 seconds – down from 6 seconds flat – while the 100D finds half a second to do the dash in a claimed 4.7 seconds.
The updated cars with their faster 0-60mph times arrive at an interesting time for Tesla. Earlier this week CEO Elon Musk revealed on Twitter that the new entry-level Model 3 would enter production this week, with a small launch batch of cars to be with customers by the end of the month. These performance updates may be part of a bid to place a bigger performance gap between these expensive models and the £35,000 Model 3.
What do you make of the latest Tesla updates? Let us know in the comments below.